Last updated on February 27th, 2018 at 01:20 pm
This midcentury modern dining room combines the classic lines of midcentury style and a laid-back California vibe.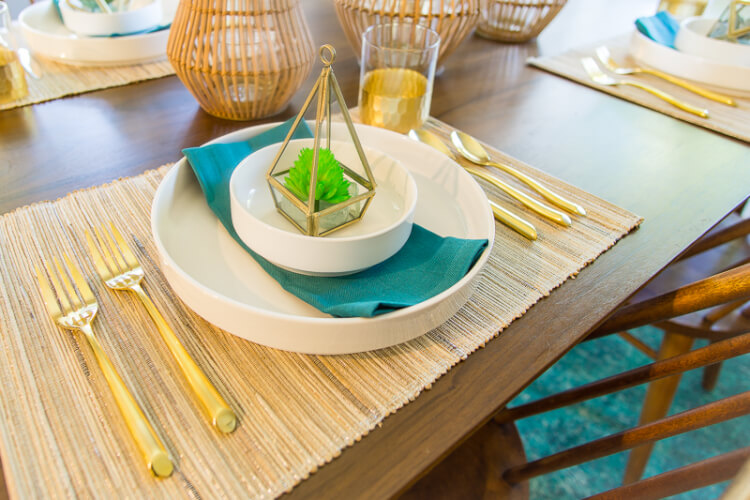 This post was sponsored by World Market and includes affiliate links.
Six weeks ago, we started this renovation of our small and mismatched dining room. Over the course of the last few weeks, we have scaled down our vision a bit, but in the end I'm really happy with how this space turned out. It's lighter, more welcoming, and much more my style. And thanks to World Market, it now has a slightly beach mid-century vibe that I am totally in love with.
First, let's see where we started: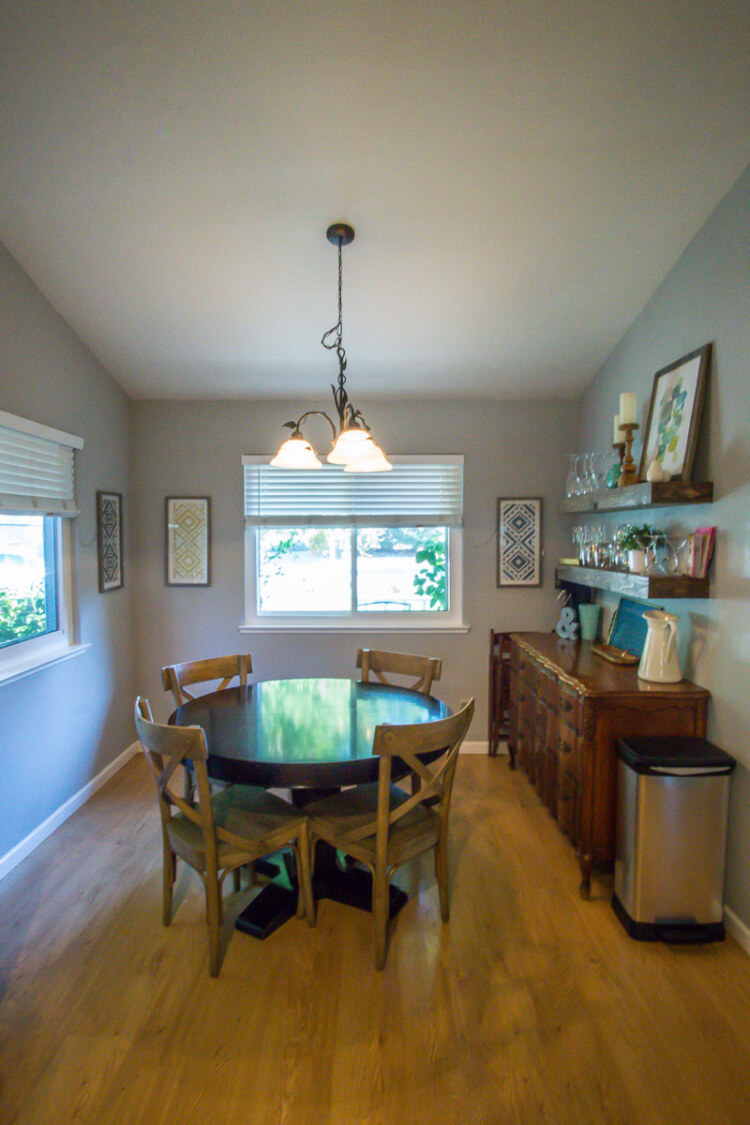 Mismatched, dark, a little dated. So I decided it needed a makeover!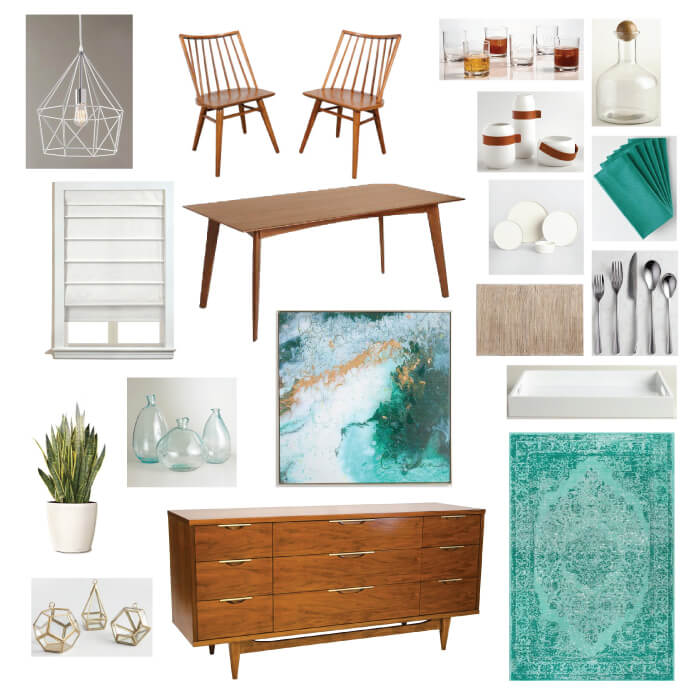 It all started with my grandma's original Conant Ball chairs. I love the styling of these chairs, and their smaller footprint works well in our 9×10 dining room. It was fate that World Market has a dining room table that coordinated beautifully with the chairs. I love that it easily seats six and is much less heavy (both visually and physically) than the original dining room table we had.
It is exactly at head-height for my toddlers, though, so they are quickly learning to watch where they are walking in the dining room!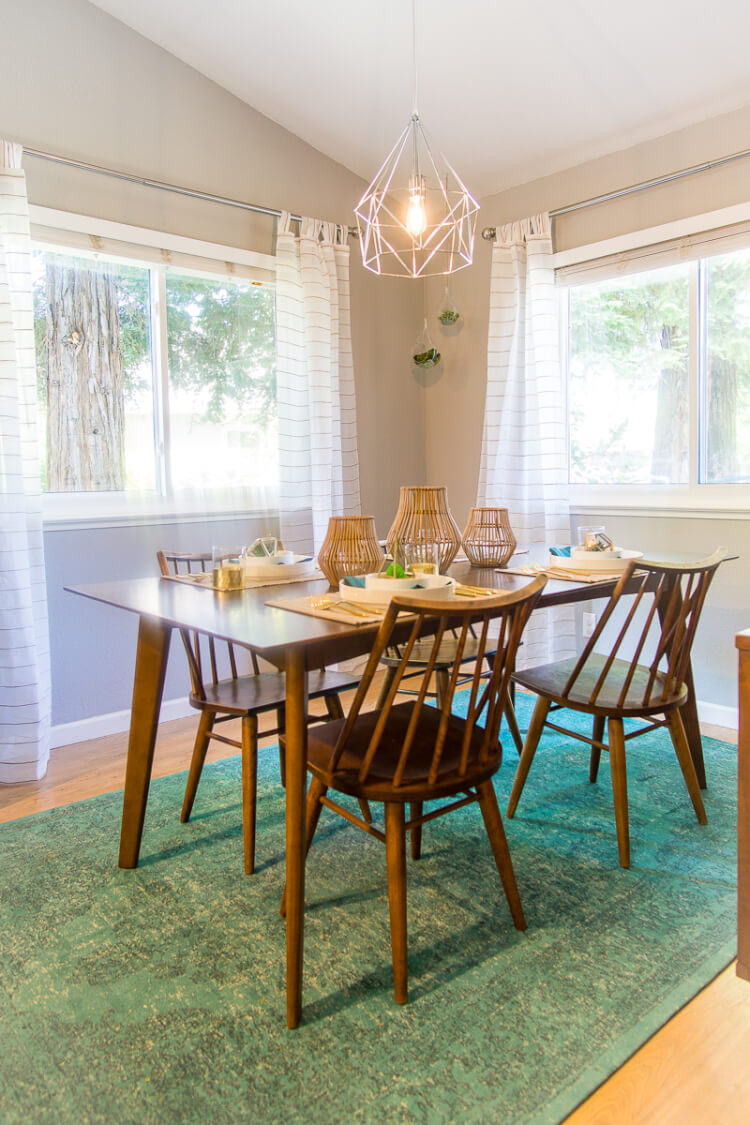 The sideboard is an antique that my mom found while shopping one day and I am absolutely in love with it. The look and feel is perfect with the table and chairs and it holds an incredible amount of stuff, which is great because we lack storage in our kitchen. The table is anchored with a beautiful teal rug that really pops underneath the wood table, and helps keep the table from sliding all over the dining room.
Above the sideboard, where the big farmhouse shelves used to be, hangs the art piece Between Dreams, which inspired this whole makeover. No matter how I photograph this, I can't actually get all the detail to show (reflections are a photographer's worst nightmare!), but it's really a lovely piece. I love how the gold leaf reflects the sunlight in particular.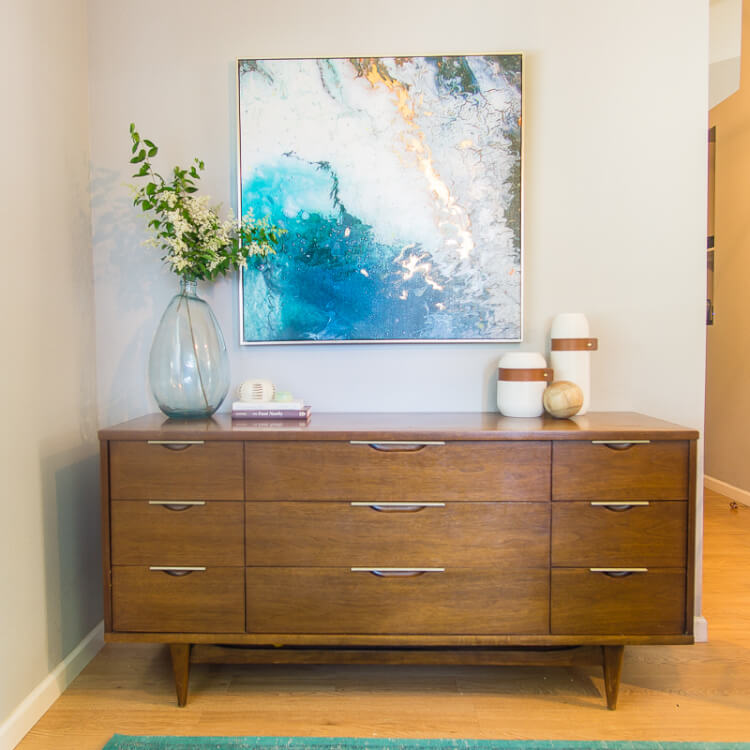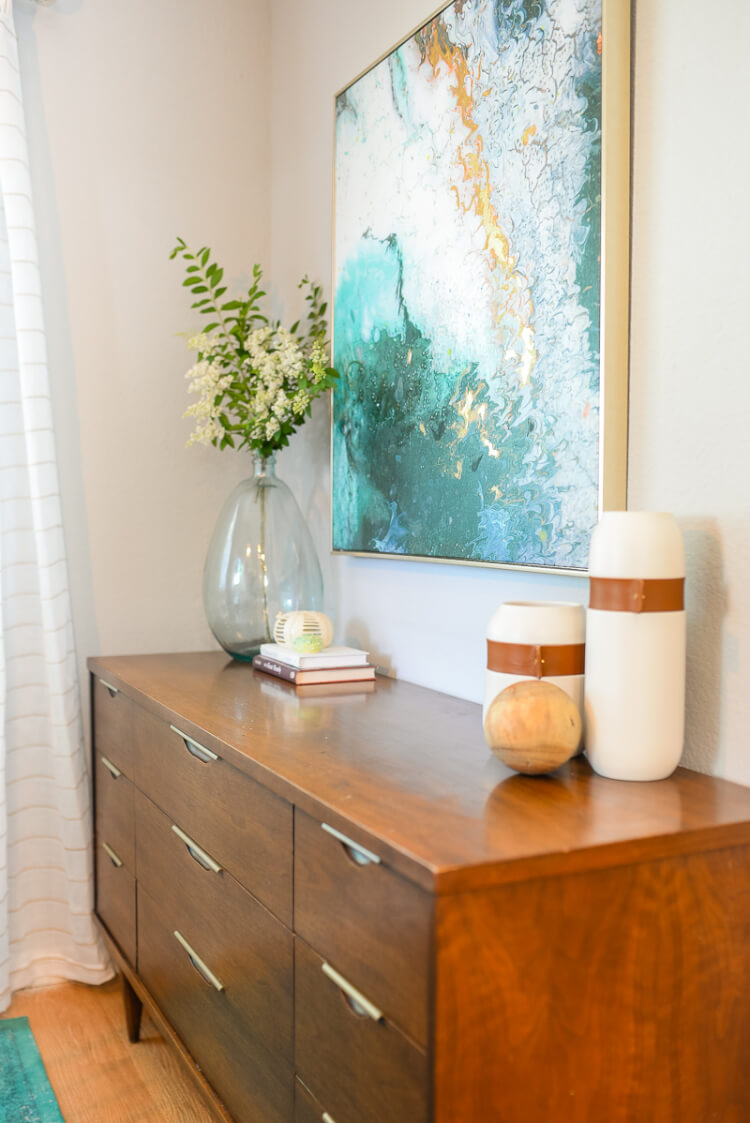 On the sideboard, I've gone with simple styling (because: toddlers): a beautiful heavy glass vase (on sale!) styled with branches from our front yard, a few books, two ceramic sea urchins I got in Jamaica, and a couple white and leather vases. So far the boys have left everything alone, so crossing my fingers we get to keep everything out.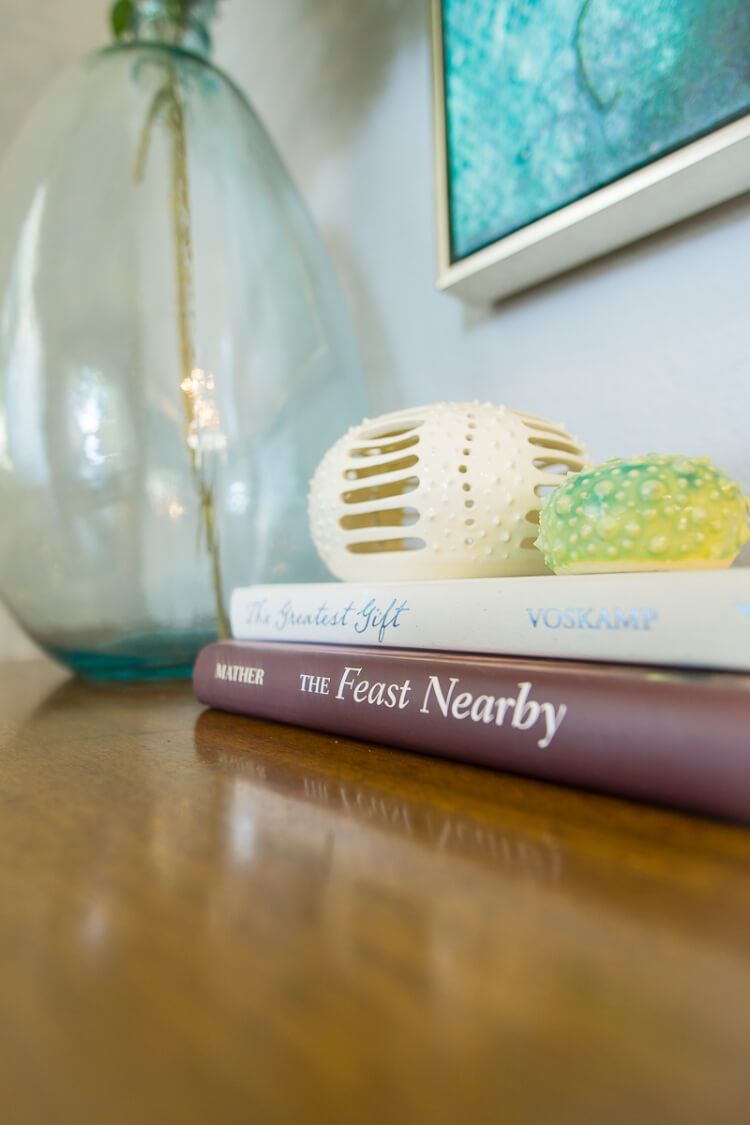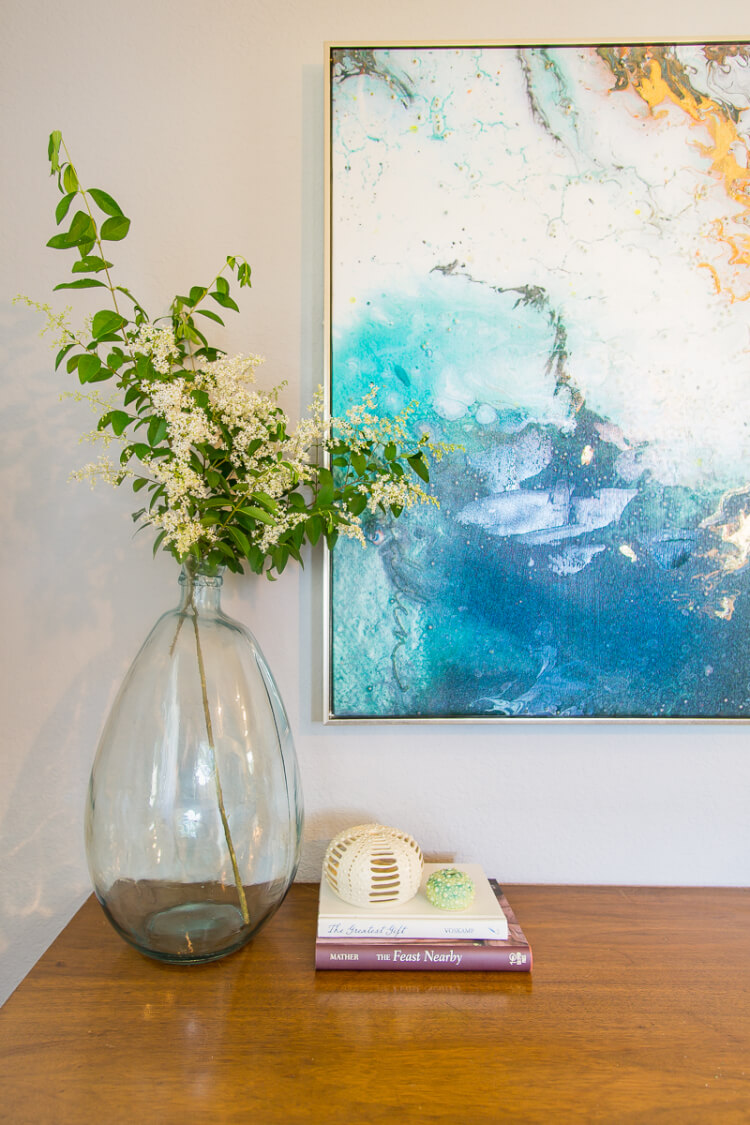 I had really wanted to case out the windows and hang white roman shades, but it ended up not being in the budget or even possible in the amount of time we had (oh, life!). So I decided to go with a set of white and jute tab curtains instead. I can't tell you how much I've ended up loving this decision. They help diffuse the bright light coming into the room and yet somehow make it all brighter in the process. Plus they soften the whole room and give it that easy, breezy feel I was going for.
The lighting is a simple geometric chrome fixture that floats above the table but doesn't block the views out to our beautiful yard.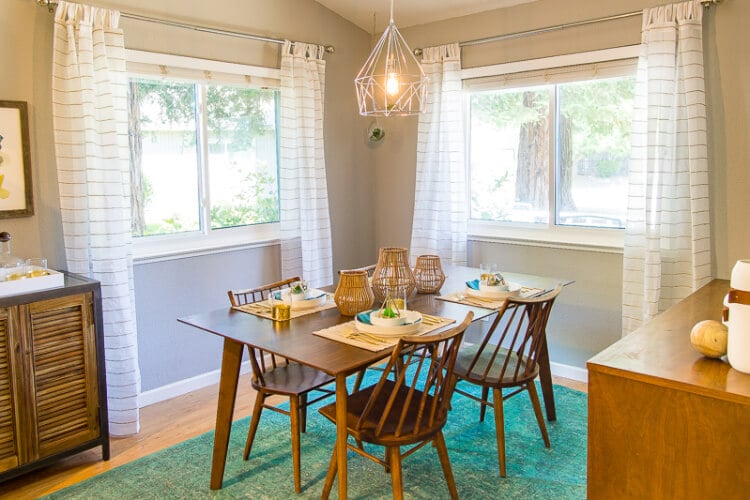 I wanted to put a potted plant in the back corner of the room, but I didn't trust my boys not to grab their beach shovels and relocated all the dirt to the floor. So instead I used two teardrop terrarium planters and hung them from the ceiling with little hooks. I filled them with blue beach glass, preserved moss, and faux succulents and they do a nice job of bringing some life into that corner. Get tips for building your own no-maintenance terrarium.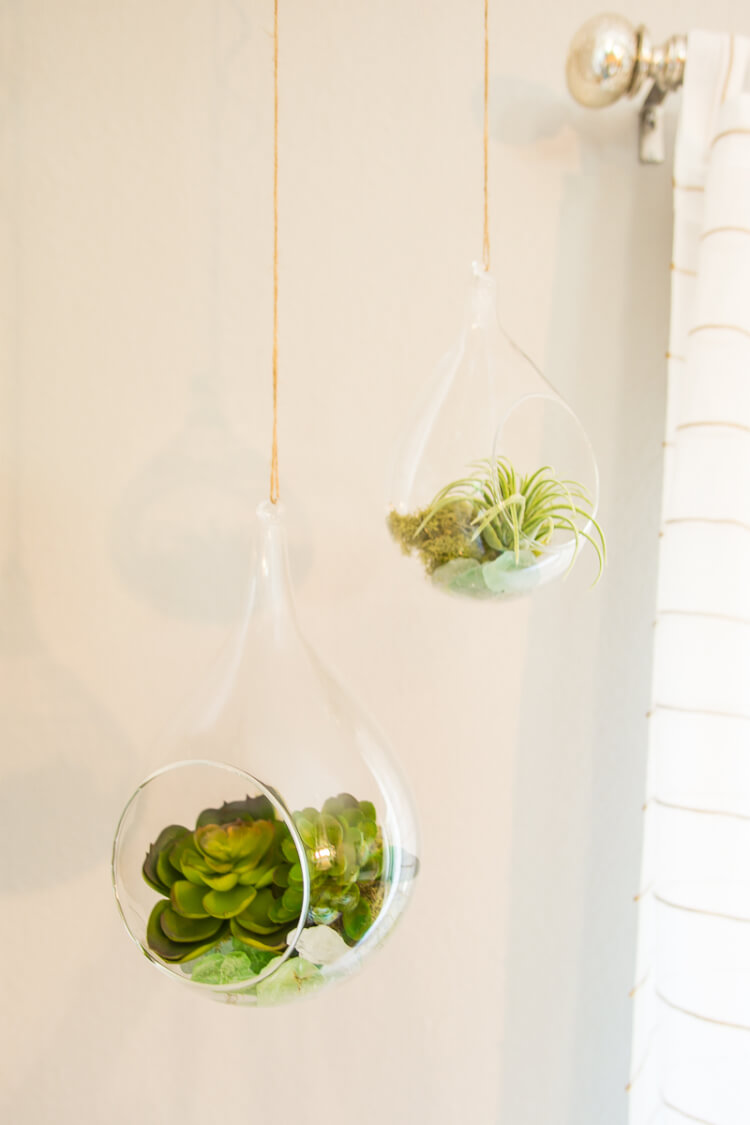 I've set the table with a bunch of beautiful tablewares from World Market. You can find them all in the Shop This Post section at the bottom of this post, but I'll also be writing a post on my tips for setting a simple midcentury modern table in an upcoming post.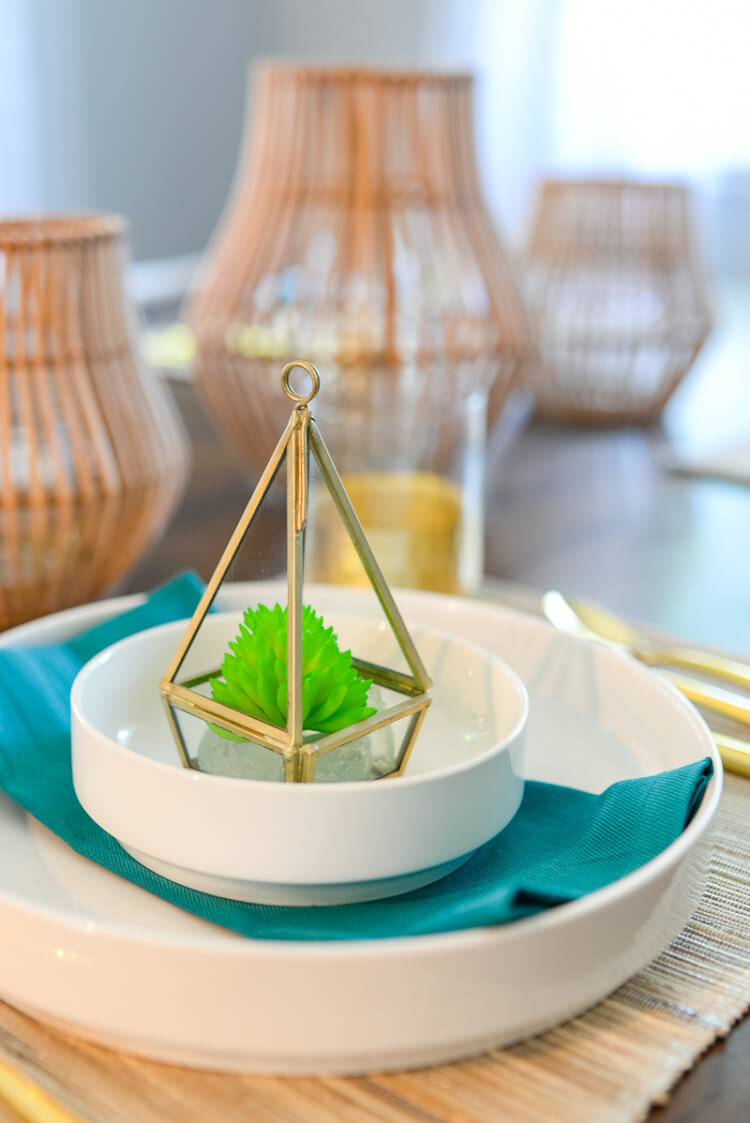 A small makeover, accomplished in six weeks! Hope you found some inspiration in this post to create your own California cool midcentury modern space!