Turn a boring workspace in to a bright and colorful sewing corner! Tips for storing fabric, organizing ribbon, and making it all look beautiful.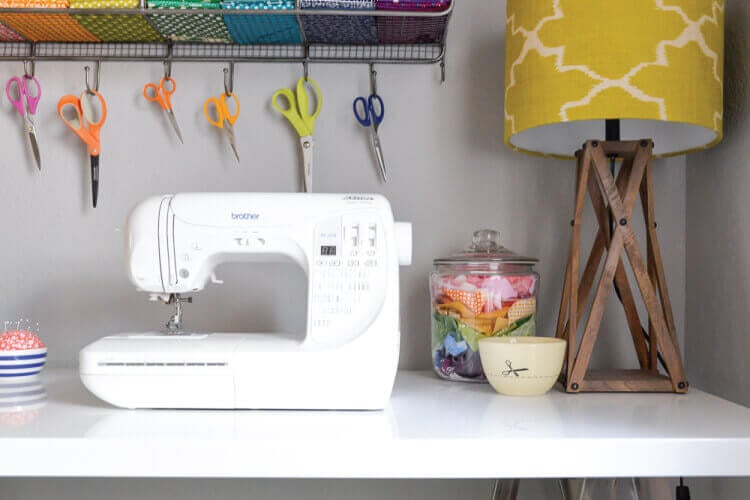 My sewing corner in my craft room has been a bit of a mess the last few months. My fabric was unorganized, my thread everywhere, and a bunch of non-sewing stuff had invaded my space. So I raided my local World Market for home decor items from their fall collection to spruce up my space — and I am so happy with how it turned out!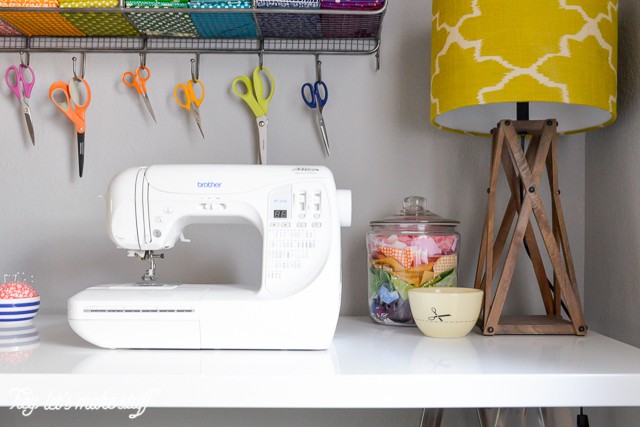 Here's my inspiration — a bunch of neutrals, which I wanted to combine with a RAINBOW of colors!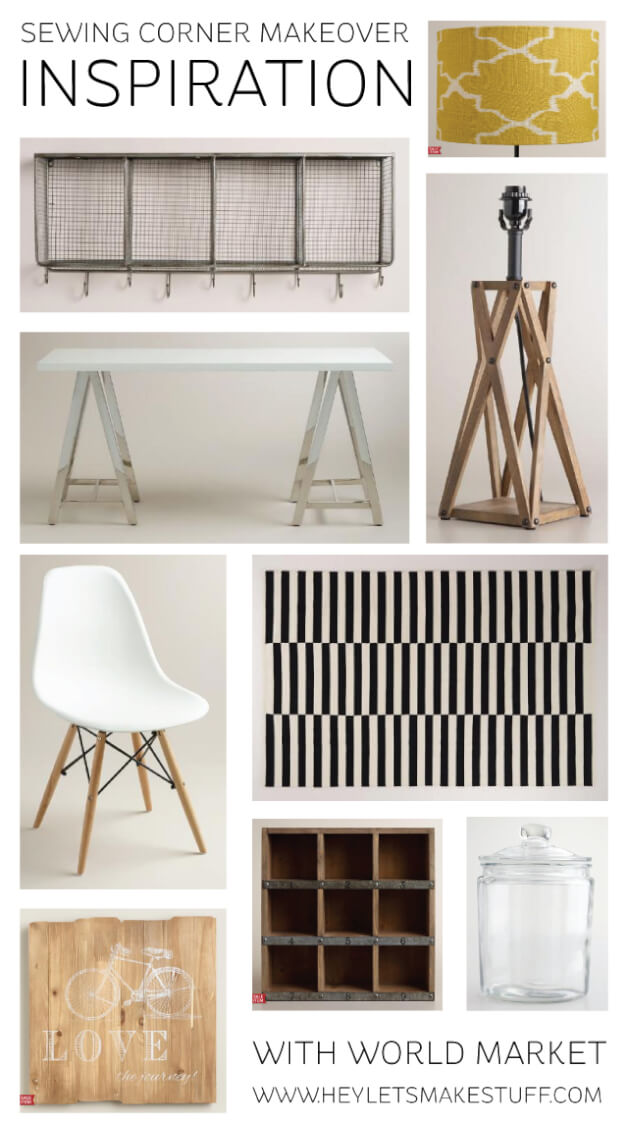 I anchored my sewing space with a new desk from World Market's desk collection. I knew I had to have the chrome sawhorse legs and the white lacquer desktop (discontinued). So chic.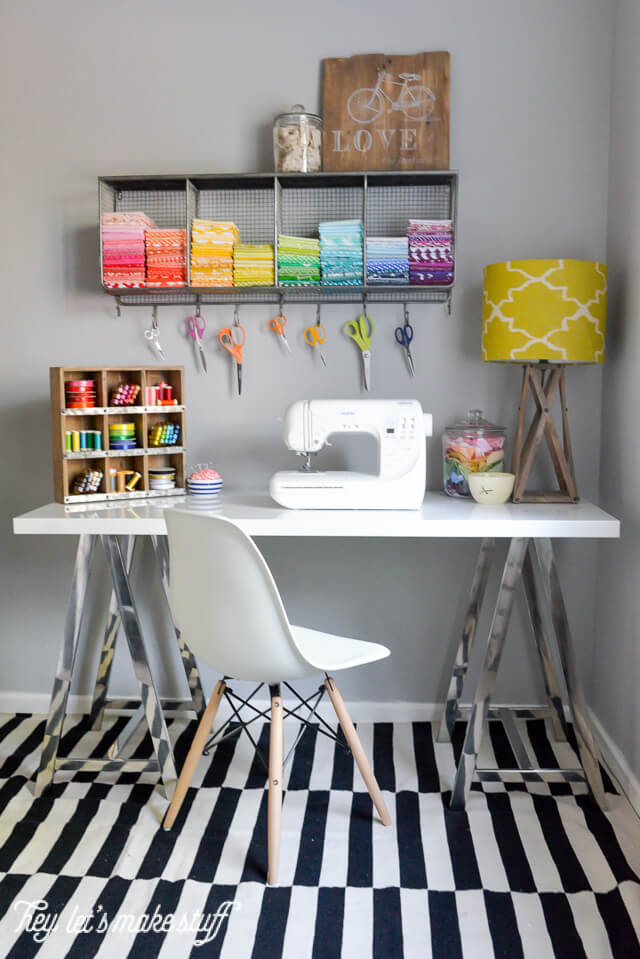 I also knew I wanted a new desk chair — my original chair had a wood bar that hit under my thighs and made my legs go numb. I was always bringing in a pillow from our bedroom to sit on. Not cool! So I chose this gorgeous midcentury modern-style chair. LOVE! Plus it's really comfortable, which is really the most important thing. Check out all of World Market's Desk Chairs.
I also decided I needed to cover up the old carpet in my home office (oh, how I long for new carpet!) with a fun World Market rug. With all the color going on above the desk, I thought this graphic black and white dhurrie rug was a fun touch. And it hides the ugly old carpet!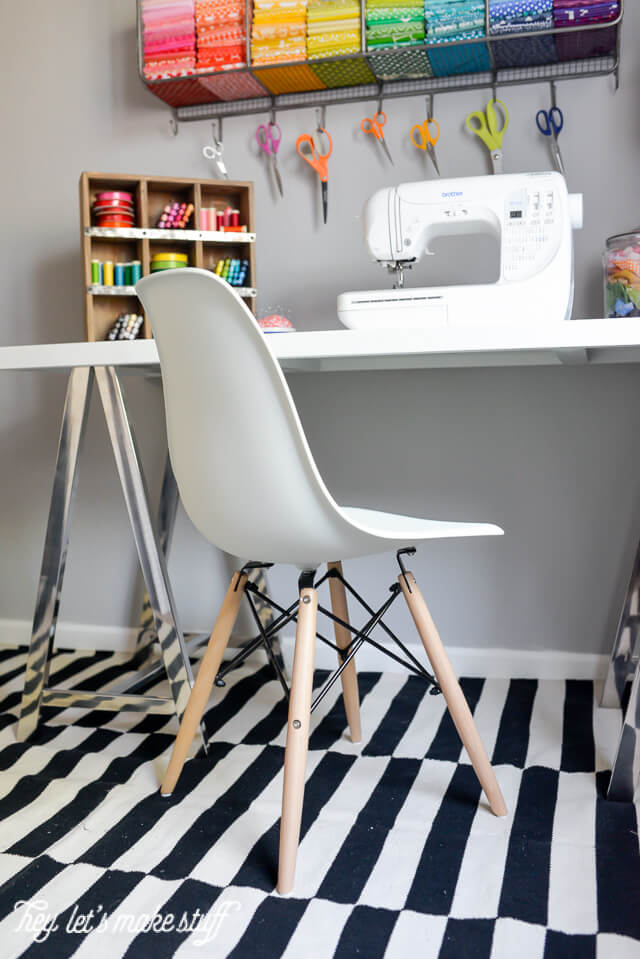 For storage of my small fat quarters of fabric, I picked up this great wire and wood shelf. I think it's originally designed to hang in an entryway, perhaps, to hold bags and keys and such. But I measured it and it was perfectly sized for folded fat quarters. Is there anything more cheerful than rainbow-organized fabric? I don't think so. Check out all of World Market's wall shelves.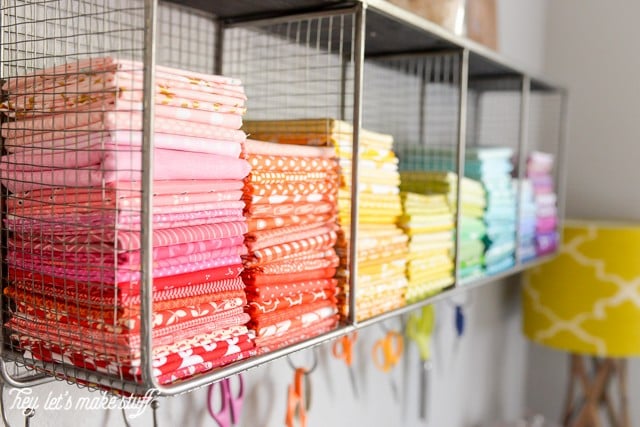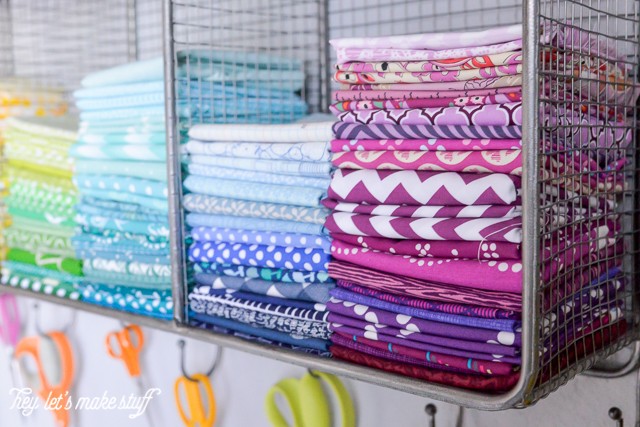 Below the shelf there is a series of hooks, which were perfect for my scissors. I didn't realize I had a rainbow of scissors until I hung them up! So happy. They are also very accessible when I'm sewing, which is way better than having them stuffed in a desk drawer like I did before.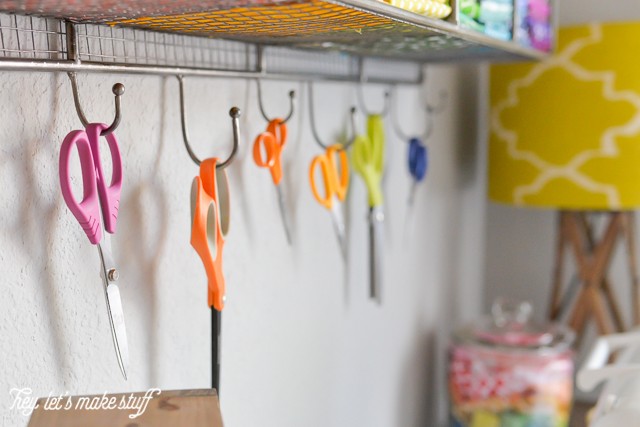 The top of the wall shelf is wood, which makes it easy to put things on the top without them tipping over. I bought this great Love the Journey sign which reminds me to enjoy every day instead of just thinking about the future. One of World Market's great half-gallon glass jars holds lace. (I think I am going to get a bunch of these jars and reorganize my baking cabinet! They are so great and priced well.)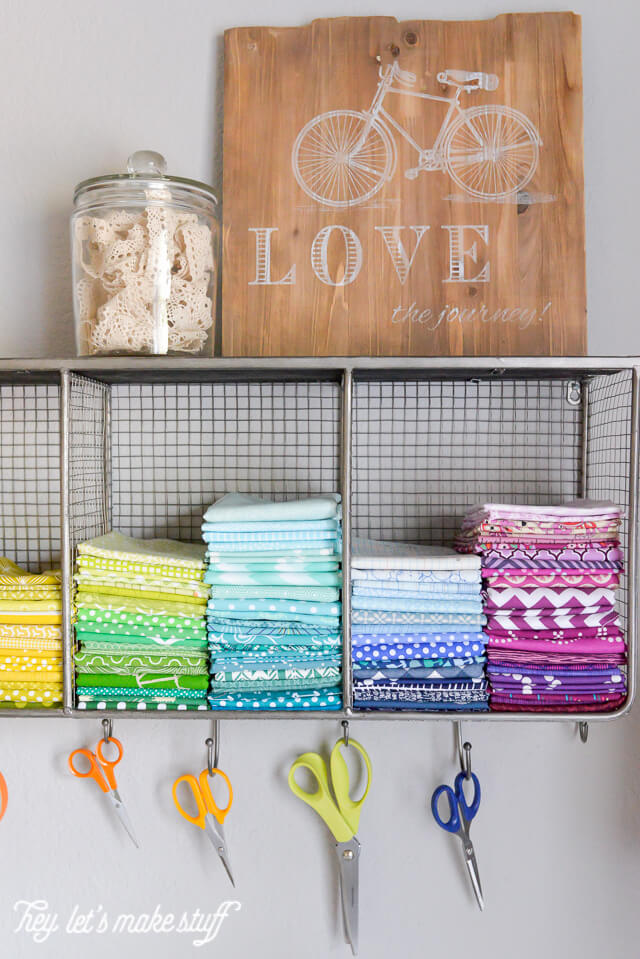 I used another one of the gallon glass jars to hold my scraps. Rainbows everywhere!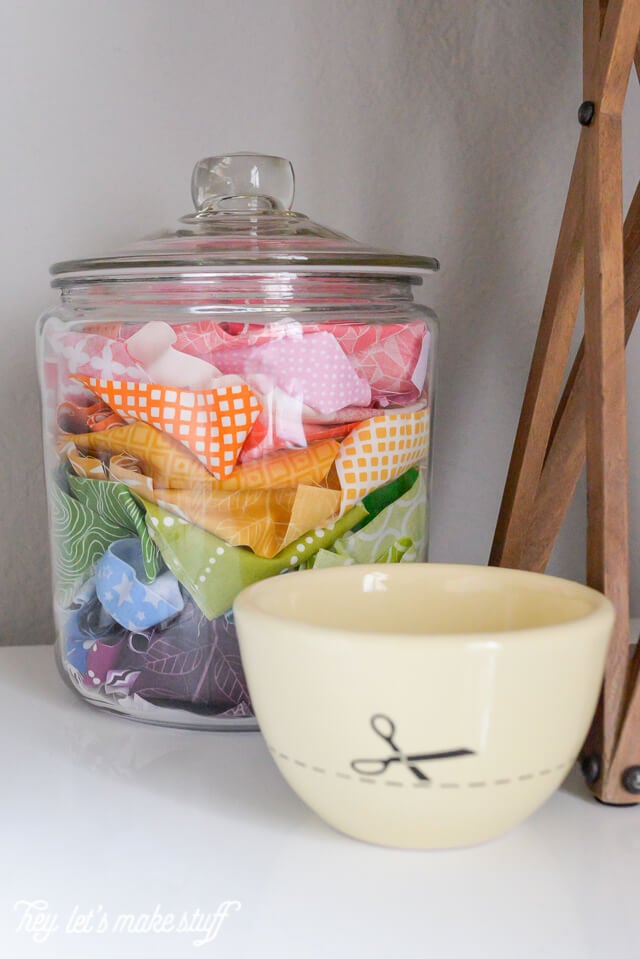 To organize some of my notions, I love this cubby desk organizer. It's a great size for some of the little things that were scattered about my sewing space before, like ribbon and thread.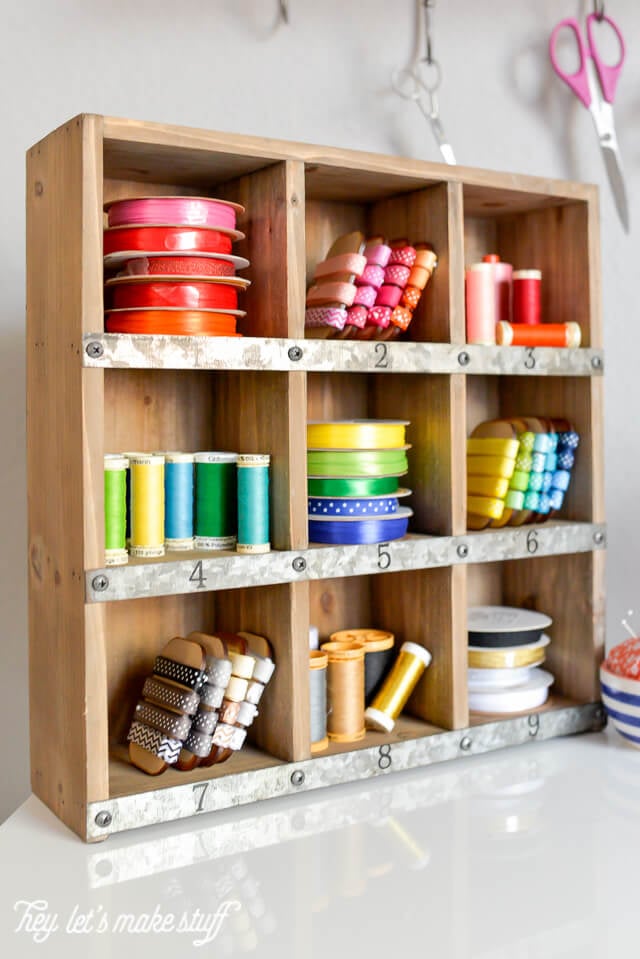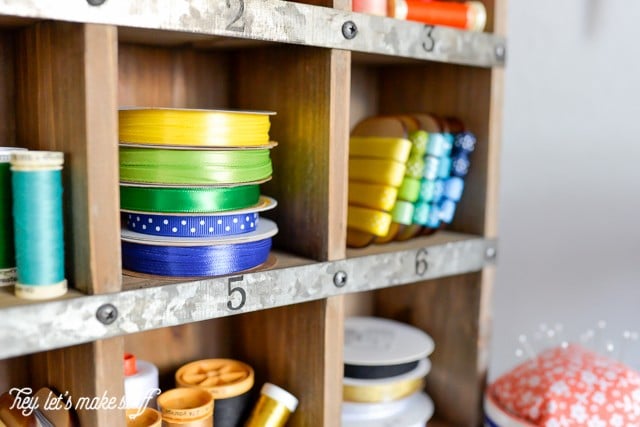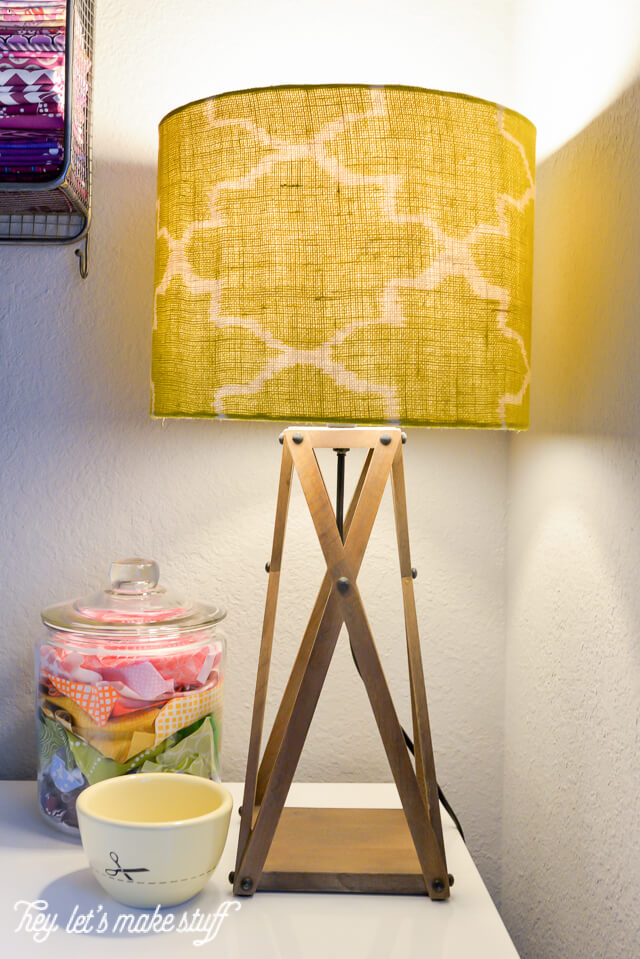 Instead of a desk lamp, I went with a table lamp base and burlap shade. I love table lamps instead of desk lamps! I love the light that it gives, and the style is so much more "me" than a boring old desk lamp. Isn't that base gorgeous? I love how it echoes the wood in the cubby organizer and Love the Journey sign.

Are you as in love with this space as I am? Not only is it super bright and fun, but it's much more functional than my old sewing corner. A big thank you to World Market for helping me make it happen!