Want an excuse to use your Cricut more? Finding yourself stuck in a rut with what you're making? The 2019 "Use Your Cricut" Instagram Challenge is for you! 52 weekly inspiration prompts, Instagram features, prizes, and more!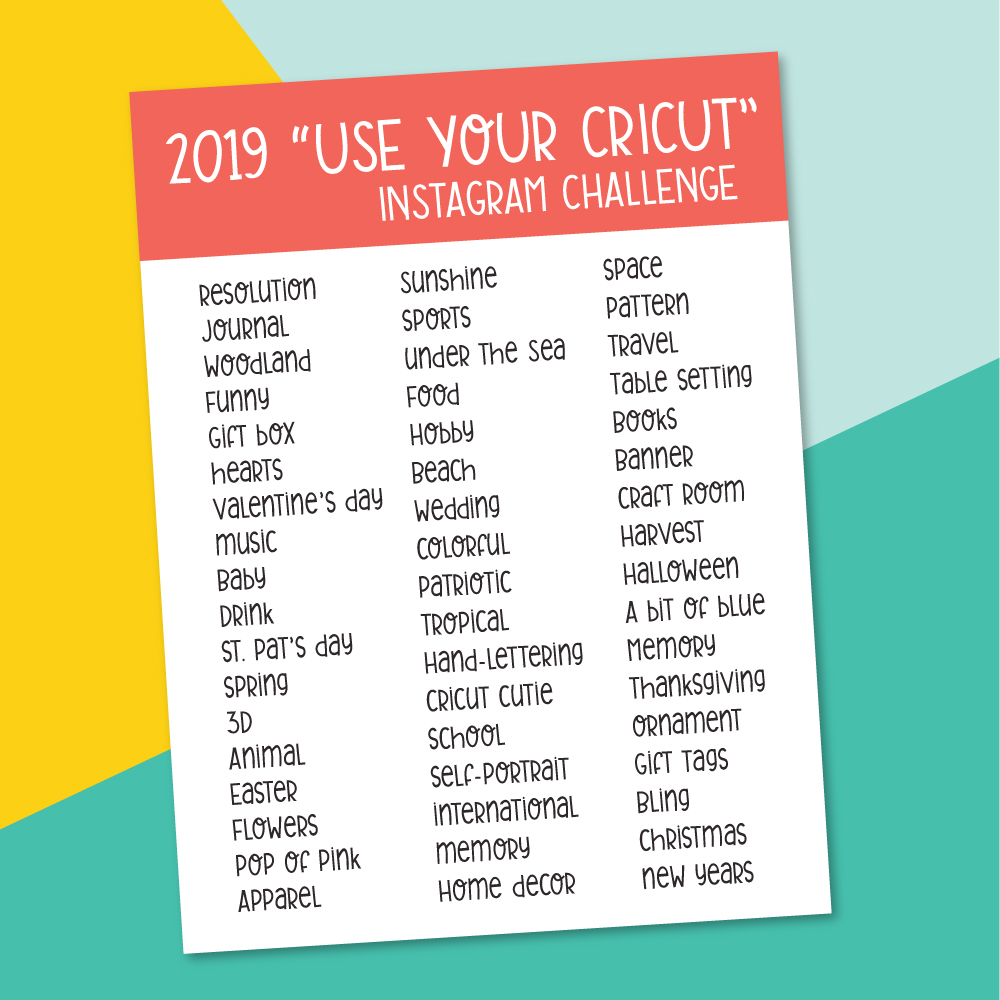 One of the main things I hear from people who have a Cricut is that they don't know where to start when it comes to making things. A lot of them word it as "too many ideas, not enough time!" I think most creative people can relate to that!
If you're looking for a little focus in 2019, I am starting a fun Instagram challenge! Are you ready to play along?
"Use Your Cricut" Instagram Challenge
The idea of this challenge is getting you to use your Cricut more! Sometimes we need inspiration to get out of a run we are stuck in. And sometimes it's just fun to be inspired to make something new and connect with other Cricut fans!
Here's how I designed the challenge to work:
Each week on Monday in 2019, I'll post a new photo on my Instagram account with that week's inspirational prompt.
Some weeks will have a talented co-host as well—I'll tag them in my post, so make sure to check out how they were inspired by the prompt!
Then it's your turn to get creative! Think about the prompt and use it to create a project using your Cricut! Be literal with the inspiration, or allow your mind to wander. You can use any materials and your project can be as simple or complex as you'd like. Participate one week and not the next. The only rule is that you have to use your Cricut in your project!
You can download the full list of prompts for the year including dates by clicking here, in case you want to start planning ahead!
To participate in the challenge, post your photo on Instagram and tag @heyletsmakestuff and, if applicable, the co-host's handle, and use the hashtag #HeyLetsCricutStuff. If you tag the hosts and use the hashtag, you'll be eligible to be featured in our Instagram stories, with credit of course, AND win that week's prize!
Need help using your Cricut? I've got a free class for you!
Don't have an Instagram account? Just download the app onto your smartphone and set up a free account.
If you're not on social media that's fine too—you can just use these prompts to help you get crafty in 2019!
Prizes
Each week I'll have a Cricut-related prize to send out to one lucky participant! I've limited the prizes to the US and Canada, due to shipping costs. But if you are outside these areas, you can still participate for a chance to be featured on our Instagram stories and connect with other Cricut makers!
Cricut is not affiliated with this Instagram challenge. It's just something I wanted to do to help you get make more with your Cricut in 2019!