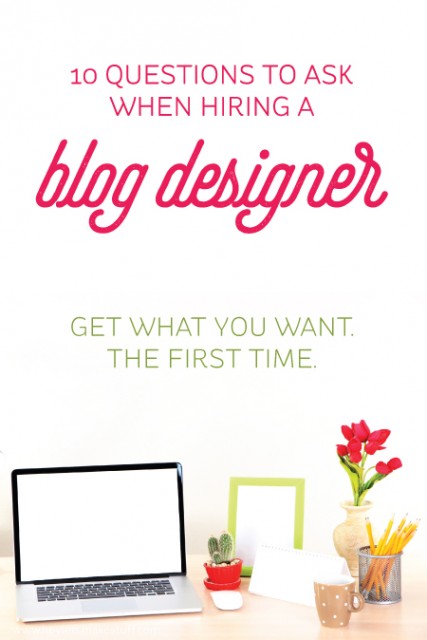 Don't miss more great resources from Hey, Let's Make Stuff on Facebook.
Welcome to my series on rebranding!
If you're new to this series, here are the other posts in the series: 7 Reasons You're Ready to Rebrand, How Much Does it Really Cost to Rebrand Your Blog?, and The BIG Checklist of Blog Rebranding. Today we're going to talk about important questions to ask when hiring a blog designer.
Hiring a blog designer is a great option when you're rebranding (or just redesigning your blog). But it can also go wrong if you don't research the person you hire to do the redesign. I have far too many friends who have hired people and been disappointed with the results—and lost big money in the process.
You may feel awkward asking so many questions of a blog designer, but you really want to make sure you're hiring someone who is going to be a good fit and who has the capabilities to meet your needs. Plus, they get asked questions like this all the time—don't you want to hire someone willing to take a few extra minutes to make sure you're informed?
Questions to Ask a Blog Designer
1. Can I see your portfolio? 
Getting a look at the sites of a blog designer is one of the best ways to get an idea of the designer's style and capabilities. Consider both the aesthetic and usability of the portfolio sites. Just because something is pretty doesn't mean it works well. You want both. You can also contact blog owners directly to get their honest opinions about working with that designer, rather than just going with references that the designer gives to you.
2. What is your aesthetic?
You'll want to find someone whose designs work with your own style. A business web designer might not be able to give you that hand-lettered feminine look you're looking for. Find someone who builds sites you find beautiful, and they should be able to deliver the same for you.
3. Do you use your own theme design, or modify purchased themes?
Most blog designers will modify existing themes to match your desires. This is how most bloggers get their designs. But if you have a budget and want your blog designer to create something from scratch that's always an option, albeit a more expensive one.
4. Do you do your own illustrations or do you use pre-made illustrations?
As a follow-up to the last question, you may want to ask if the designer uses elements they make themselves or if they use stock art. Many designers may not have the capabilities to draw their own artwork, so they use stock artwork or purchase it from illustrators. This may not be a big deal to you—but you want to be aware of it just in case "your" design elements show up elsewhere on the web. You'll also want to know if you take on ownership of those design elements and can use them elsewhere, like in your media kit and social media headers, for example.
5. Do you charge hourly or by the job?
Depending on the designer, they may charge a flat fee per job or charge by the hour. A flat fee is a good option so you can control how much you're spending. But make sure you know exactly what you're getting for that flat fee — you don't want extras being added on at the end. It's an easy way for costs to spiral out of control.
6. Are there other fees I should be aware of?
Always ask what the designers fees cover, and whether or not you'll be charged for extras. For instance, a lot of premium WordPress themes run on Genesis, which costs $60. Is this covered within your designer's fee? Other fees and costs may include stock art (mentioned above), technical support, and if the job goes outside the original scope of work.
7. What is the timeline for completion?
You don't want to be waiting for months for your new site. Discuss the timeline before you hire someone—and ask what happens if the blog isn't finished within that timeframe.
8. How involved am I in the process?
Ask a blog designer about input during the design process. Do you give them your ideas and then they deliver the final product? Or do you get to see mock-ups and drafts, and work alongside the designer as they go?
9. Do you do the installation as well as the design?
Depending on your own technical skills, you'll want to ask whether or not your designer also does the installation of your new theme into WordPress (or whatever platform you're using). It's great to have a new design for your blog—but it's not worth anything if you can't install it!
10. Do you help with other technical aspects of the blog?
When doing a rebrand, there are a lot of technical questions that come up (you can read about some of them in my BIG Checklist of Blog Rebranding). Does your blog designer help with such things, like activating plugins and setting up a 301 redirect? These are small things but can be very frustrating if you don't have experience. See if your designer includes this or charges an extra fee—and if not, then ask if they can refer you to someone.
These are just 10 questions to get you started—you're bound to have others so don't be afraid to ask them! By doing your homework before entering into a business relationship, you can make sure you're getting what you want from your blog designer, the first time.
Get techy:
Rebrand the right way:
TODAY'S TOP TEN POSTS