Last updated on December 22nd, 2017 at 03:16 pm
These are the best freezer cooking tips and tricks to help make your day of cooking go smoothly.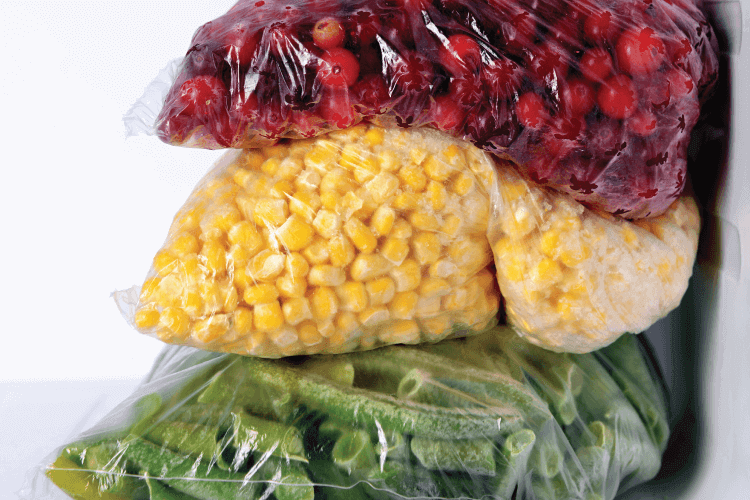 I can't tell you how much I love freezer cooking. I'm just not a fan of spending night after night in the kitchen trying to figure out what to cook — having a bunch of meals ready to go in the freezer is perfect for our lifestyle right now. Not to mention it saves us a TON of money every month, and each meal is pretty darn healthy.
(Though I will say, the idea of cooking in my brand new kitchen is very exciting!)
This last weekend, my sister-in-law Alicia and my friend Katie and I did our fourth freezer cooking day. It was, by far, the easiest we've done. We're definitely getting the hang of it and figuring out ways to make it go more easily, since, if I'm being truthful, it can be a beast of a day.
We use the delicious Once a Month Meals Paleo menu. This month had great meals like Unstuffed Cabbage Rolls, Chicken Curry with Cashews, and Honey Ginger Apple Shredded Pork. They also have traditional, whole foods, dairy-free, gluten-free, vegetarian, diet, baby food, and mini menus. They allow you to customize your menu depending on how many people you're cooking for, and generate a shopping list, prep list, cooking day instructions, and thaw list accordingly. They do so much of the work for you!
With our upgraded Pro membership at Once a Month Meals, we are also able to swap out menu items from old menus — this month we swapped in Sweet Potato Spinach Turkey Burgers and Spicy Buffalo Chicken Muffins, both of which we loved from previous months. This gives us a lot of flexibility in what we're cooking, and if there's a recipe that just doesn't look like something we'd enjoy, we have a thousand recipes we can swap in instead.
Back in January, I posted a helpful list of Freezer Cooking Tips and Tricks. Today I'd like to share ten more we came up with while cooking this month, including a few gadgets we love that make our cooking days easier.
1. Prepare Your Mind and Body
I think mentally preparing yourself for an entire day of cooking is the best thing you can do. It's not going to be a few hours — you are most likely going to be on your feet cooking all day. Last month we cooked from 8am to 9pm. This month we went from 8am to 6pm. Yes, we cook more meals than you would if you were cooking for just your family — but there are also three of us. It's daunting, but at the end of the day when you're looking at 18 or so ready-to-eat meals, it's super satisfying.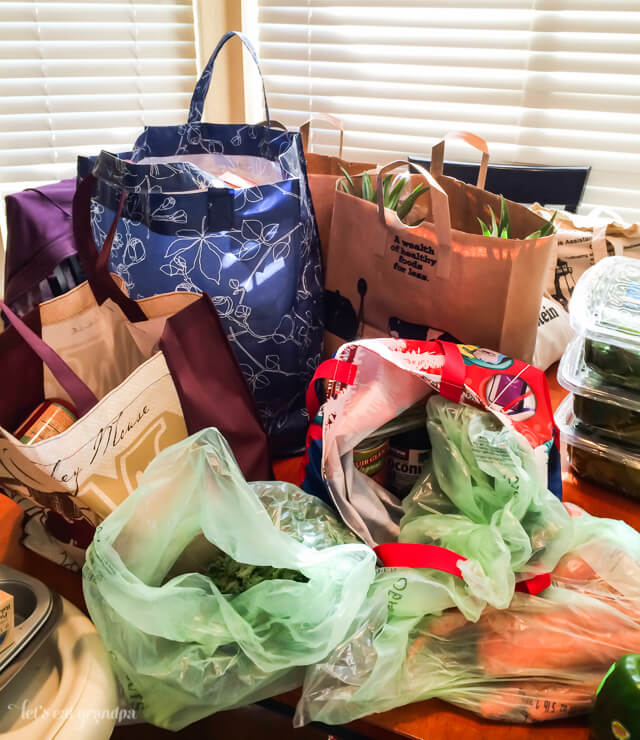 Along with preparing yourself mentally, prepare physically. Wear good shoes and have an Advil handy just in case standing that long gets a little painful (my lower back is always sore by the end of the day). Also know where your lunch and dinner are going to come from. Thankfully, there's an In N Out down the street — perfect for lunch during a long day of cooking!
2. Find Someone to Watch The Kids
Both Alicia and Katie have kids, and we've done freezer cooking days with the kids at home. This time, the kids stayed home with their dads. While I love their kids bunches and bunches, it was so much easier without three kids under four running around the kitchen. If at all possible, have dad or grandparents or someone watch the kids all day.
3. Prep, Prep, Prep
While I think that the Once a Month Meals menus can be accomplished in one day if you are just cooking for your family, we have learned that it really is a 1 1/2 day project for us. This month, it was my turn to host our cooking day. I did the menu planning on Thursday, all the shopping on Friday, and then spent Friday afternoon chopping and preparing some of the other foods as much as possible (it helps that I don't have kiddos running around!). I was able to get almost all the veggies chopped, some of the meat chopped, and the ground turkey and ground beef cooked using a crock pot. We are sure this is what made the difference between ending at 6pm and ended at 9pm.
One of the things I did not prep in advance was fruit — I didn't want it to go brown overnight.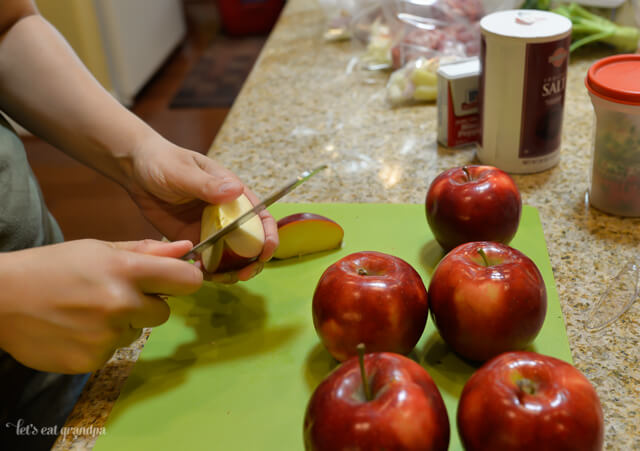 Next month, we're going to try and do the prep day together — we'll get more done in less time if all three of us are working.
4. Organize Your Ingredients
We used my mom's kitchen for our cooking day this month (since mine is still under renovation), and she had a ridiculous amount of space for us to divide up our ingredients — pantry items, veggies, and meat. Everything was out on the counter (except some of the meat in the fridge) and visible. Knowing where everything was helped our day go smoothly since we didn't spend too much time rooting around in cupboards for what we needed.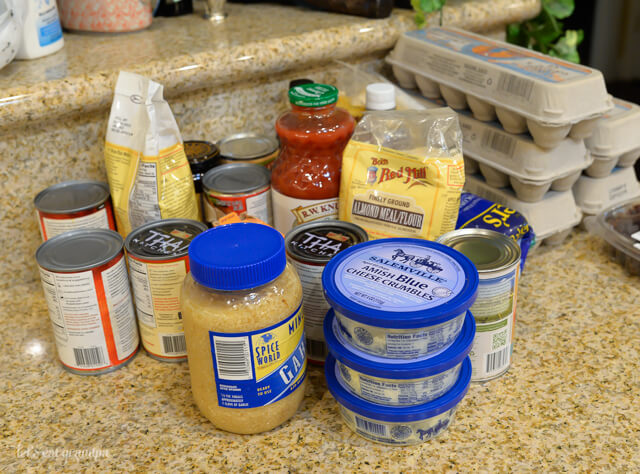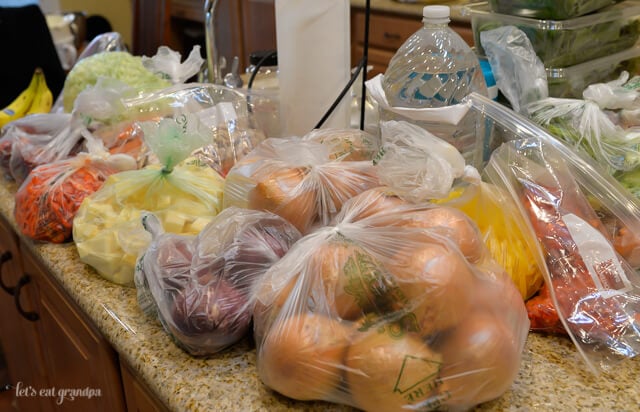 5. Cut the Oil
If you're cooking for a larger number of servings, take note. While the Once a Month Meals system does a good job scaling the recipes for the number of people you're cooking for, we have found that you just don't need as much oil as the recipe calls for. A cup of ghee to cook onions? A quarter cup was more than enough. Same goes for coconut and olive oil — we almost always start with a quarter of what it calls for, and add more if necessary.
6. Replace Spices
Katie's daughter doesn't eat anything spicy — and I assume that a lot of people out there are the same. So for Katie's meals we forgo the chili powder, cayenne, etc. We learned this month that it's important to replace those spices with something else so the meal doesn't turn out too bland. In the case of the Shepherd's Pie Muffins, a little salt and pepper did the trick.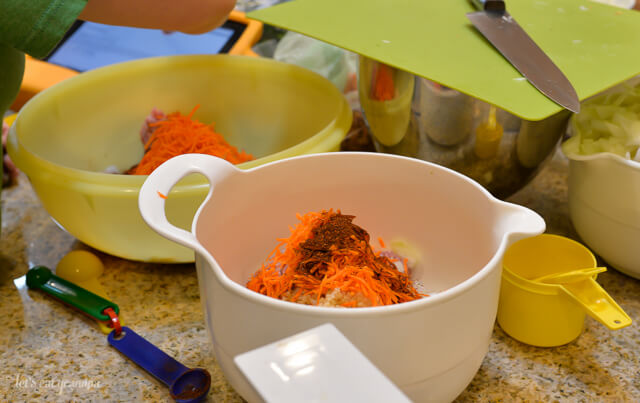 Chopping goes much, much easier with a food processor with a slicing blade. I was able to slice six red, six orange, and six yellow bell peppers in a fraction of the time it would have taken me if I'd used a knife. Hello fast fajitas! I also used it to grate carrots and slice mushrooms and radishes. My slicing blade can be modified for thin or thick slices, which is awesome.
Now if only I could figure out how to get it to chop onions without turning them into a pulp, I'd be set!
Speaking of onions, our recipes called for 24 yellow onions and 5 red onions this month! I don't know anyone who can chop that many onions without crying a river. We use an onion chopper, which makes the process go much more quickly and saves some tears — though it still is quite an ordeal to chop that many onions. God bless Alicia for taking on that task.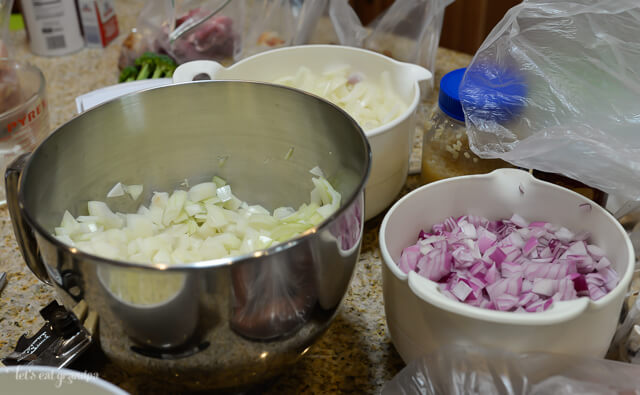 My mom got me this plastic bag holder a few years ago, and I thought it was kind of an odd gift. But it has turned out to be a lifesaver on our freezer cooking days! Filling gallon Ziploc bags with warm food would be a messy nightmare without it. Instead, we can just ladle it in — no fuss, no mess.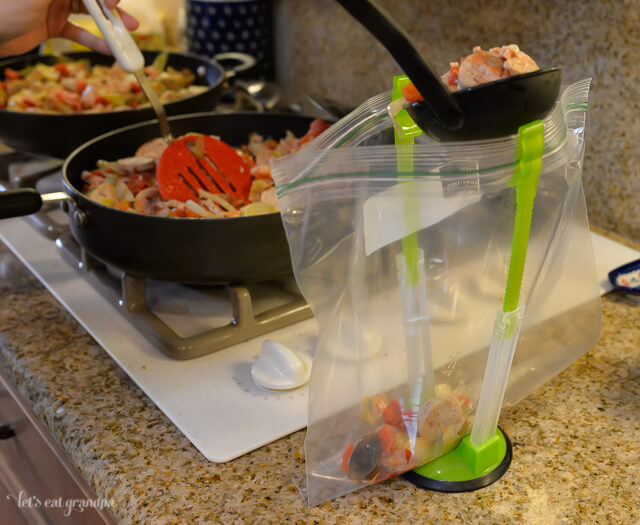 We often have recipes (especially in the Paleo menu) that require us to whisk a lot of eggs. We have found that using an immersion blender with the whisk attachment takes about 15 seconds and requires very little clean up (the same amount with a regular whisk). Anything to cut a little time when you're cooking all day! (And goodness, could Alicia be more adorable?)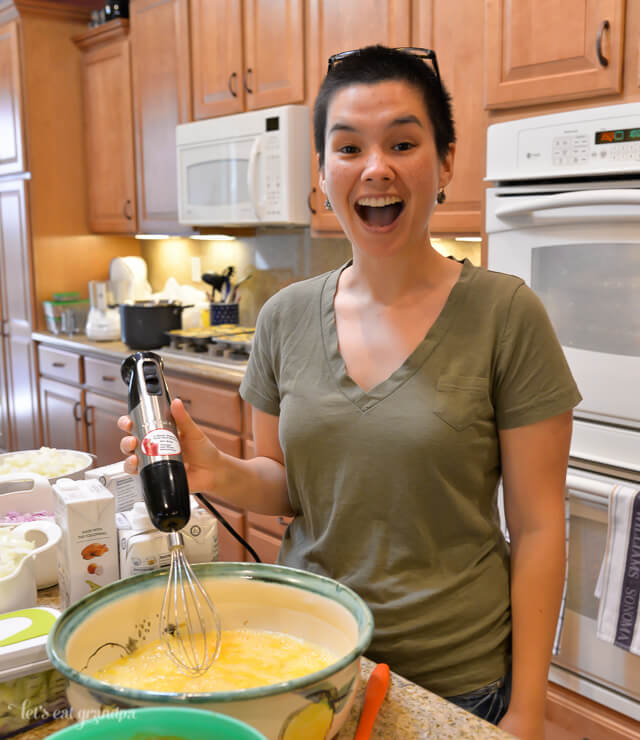 Hope these tips were helpful! Do you freezer cook? What are some of your favorite recipes, and how do you make a day of cooking less of an ordeal?
Make sure you check out the first post in this series, Freezer Cooking Tips and Tricks #1. And I also have a post where I answer all of your burning Freezer Cooking Questions!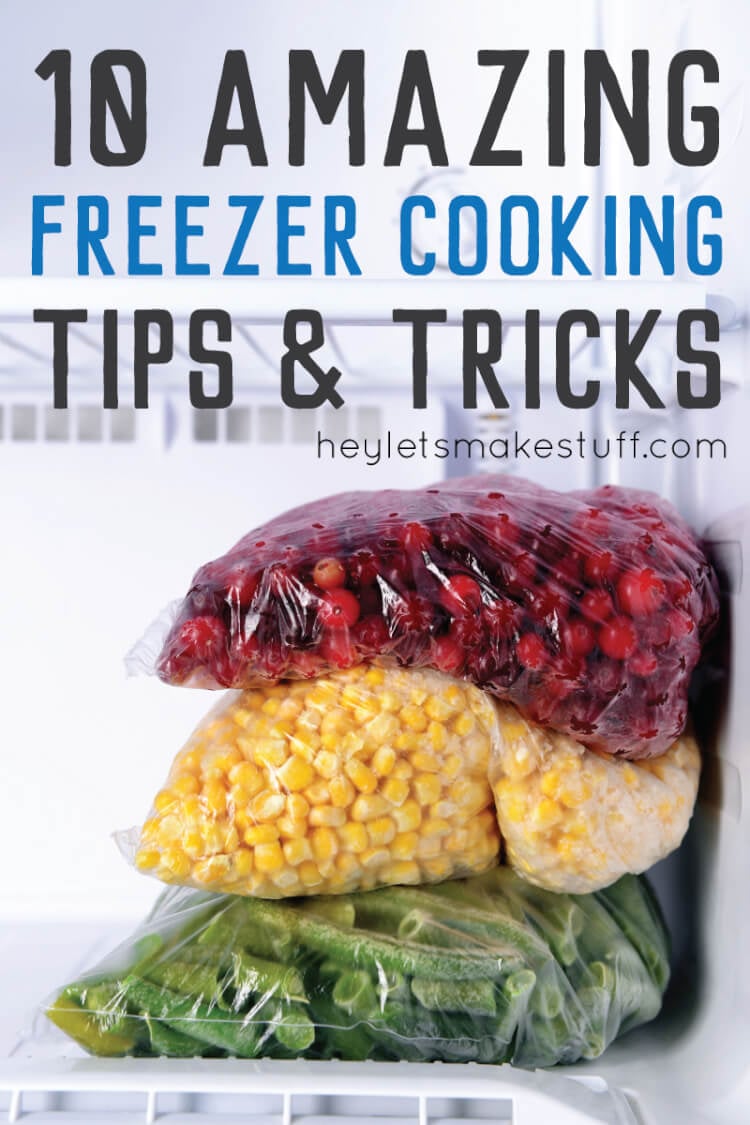 MORE COOKING TIPS AND TRICKS:
Latest posts by Cori George
(see all)