Use your Cricut Explore to cut this beautifully detailed winter wonderland mantel luminaria! Add some fairy lights and watch the town come alight.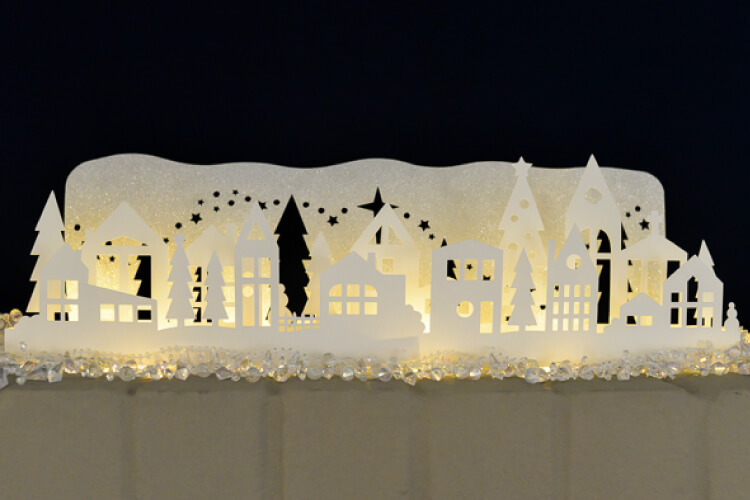 Three years ago, I designed this winter wonderland luminaria for the Cricut Design Star. When I posted about it, I said I would have the files available soon.
That was 2013. So…it's been three years. But I have finally reworked them enough for me to be comfortable offering them to you for download! Without any further ado, you can download the files here. Yahoo!
The biggest reason I didn't want to offer this file to begin with is that I really had it jerry-rigged to stand up for my original photos. If I remember correctly, there were toothpicks and a frightening amount of tape.
But after brainstorming with my creative genius mom, we finally came up with a solution for getting them to stand up well the first time. It's still a bit hacked together, which is why I'm giving away the files instead of putting them in my shop. Here's how we did it.
Mantel Luminaria Supplies
White card stock
Cricut Explore or other cutting machine
Cutting mat
Foam core board
Craft knife
Ruler
Mantel Luminaria Directions
Cut out the luminaria pieces using your Cricut Explore or other cutting machine. I used white card stock for this version, but you can use whatever you'd like — the sturdier the better (I want to try wood veneer!). In my original version, I used sparkly silver vinyl (still attached to the paper backing) for the back piece, which looked great but was ultra flimsy.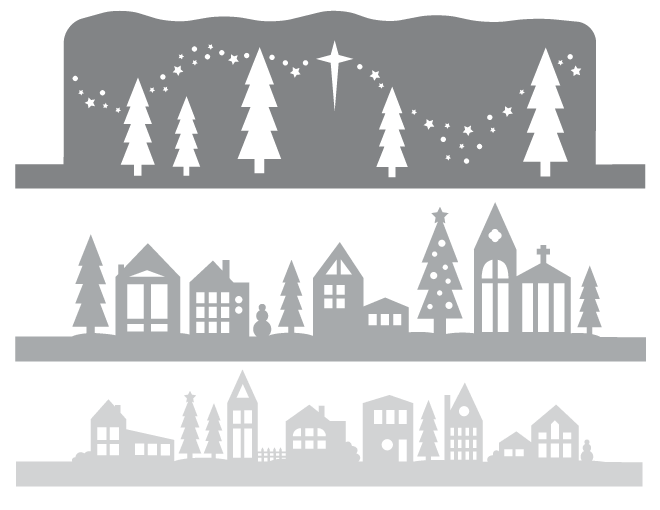 You can also use a 12″ x 24″ mat and large format card stock for a larger version.
Cut a piece of foam core about an inch longer than the long edge of the luminaria pieces. Using a craft knife and ruler, carefully cut three slits in the foam core board, about 1/2″ apart from each other. The luminaria pieces will fit right into the slits and stand up on their own. You'll also notice that the luminaria pieces have a flap on each end. Cut short slits at the end of each long slit so that you can bend the flaps and secure them so the pieces stay upright.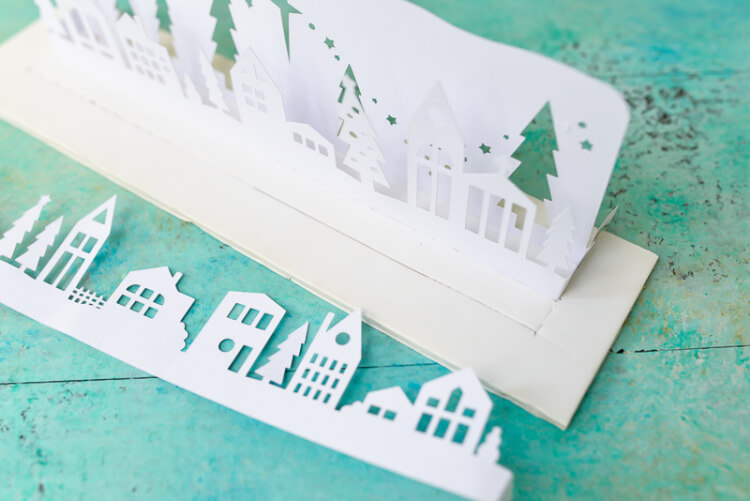 I was really surprised at how well this worked to secure the pieces. Still jerry-rigged, but pretty darn well. Ha!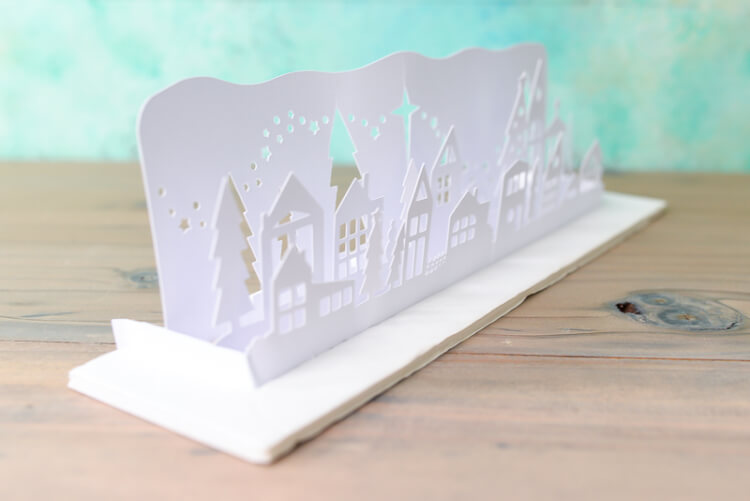 Add some fairy lights, some fake snow, a bit of bling, and you've got yourself a beautiful luminaria!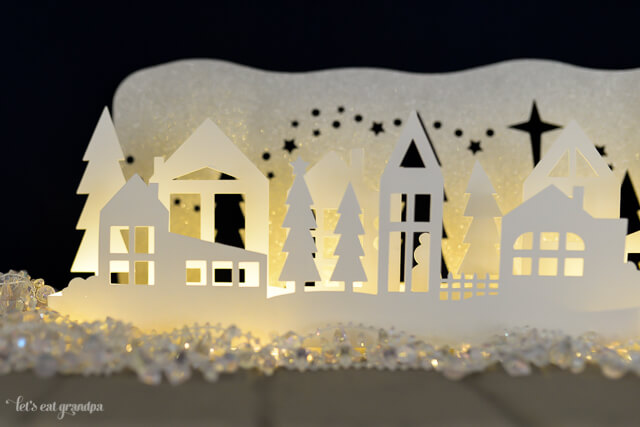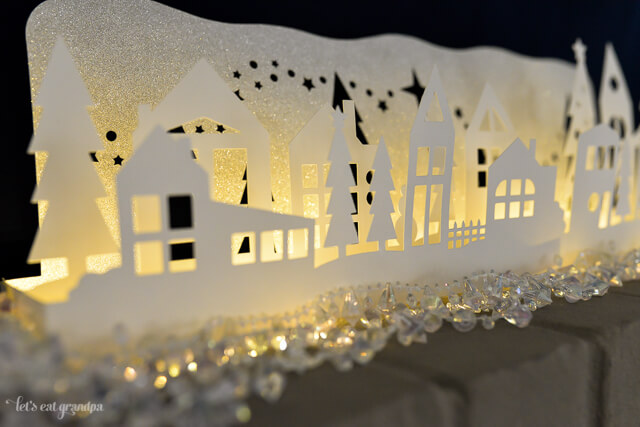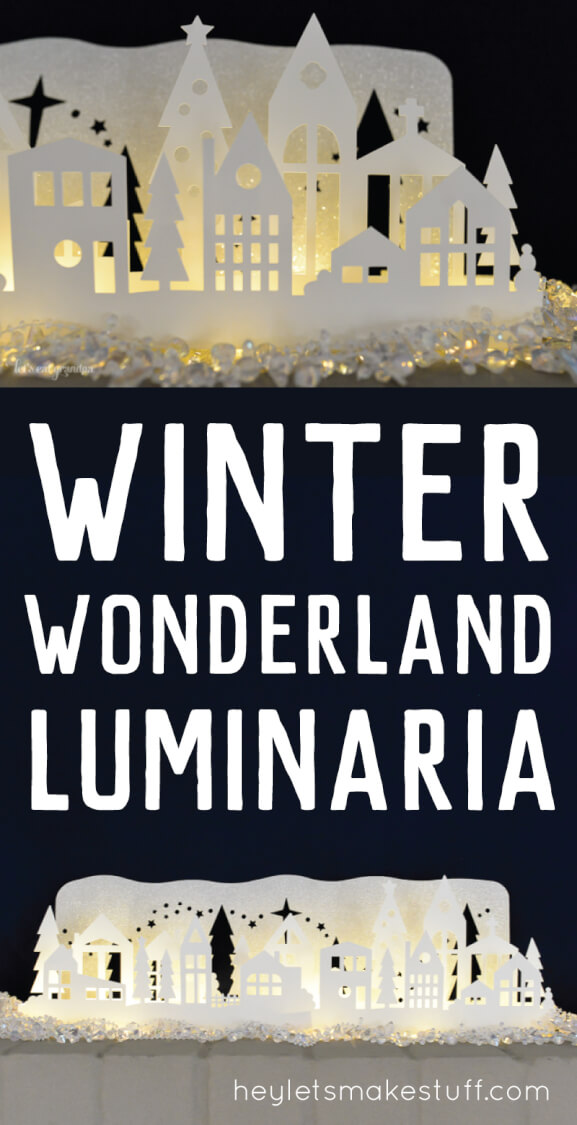 MORE CHRISTMAS CRAFTS :
TODAY'S TOP TEN POSTS