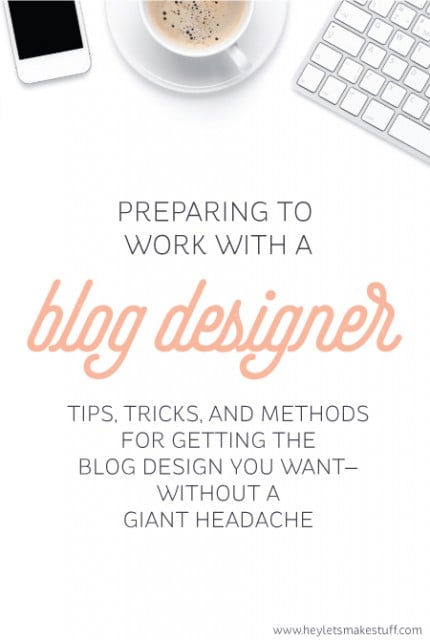 In a recent post, I talked about questions you need to ask before you hire a blog designer. Once you figure out who you'd like to work with, I thought it'd be helpful to share some ways you can work better with your blog designer. I've been on both ends of this conversation, as a graphic designer and as a client, so you can trust that I know what works when it comes to communication between you and your designer!
Working with a graphic designer to do your brand or redesign for your blog seems like it should be a fairly easy process. But without proper preparation on your part, you're setting yourself up for disaster. Here are some ways that you can prepare to work with a designer, both before you start and during the process.
Before You Begin
Know Your Blog
If you don't know your blog, it's going to be hard to create a design for it. So ask yourself, what is the main purpose of my blog? What do I need it to do beyond being just a blog? (A shop, for instance). Who is my target audience? What do they love about my blog? Do I write short posts or long posts? Do I need extra graphics that match my blog's design? Giving your designer a thorough overview of your blog is a helpful way to begin the design process.
Create a Pinterest Board
One of the best ways to help your designer understand your visual style is by creating a Pinterest board. Pin other blogs you find inspiring, fonts you love, interior designs you find inspiring, color palettes that speak to you, and anything else that you think "feels" like what you want your blog to be. By pinning a bunch of things, your designer can pick out specifics about the things you love and incorporate them into your unique design.
Sketch
Okay, okay, I get that you're not a designer. That's why you hired one. But even your chicken scratch sketches can be super helpful during the design process. Don't worry about your art skills — we all have things we're good at (I can sketch no problem, but I don't know my basic times tables, for goodness sake). If you can sketch out a rough idea of how you want your blog to be laid out (where you want your navigation, sidebar, share buttons and even ads to go), that can be an immense help to your designer.
During the Process
Don't Expect the First Draft to be Perfect
When you get a mock-up of your site back from your designer for the first time, you'll probably notice a lot of small things that immediately drive you nuts. But during that first draft review, concentrate on the big stuff (see below). There will come a time to fix the line spacing or change around the order of a menu. But now's not the time. Don't micromanage your blog designer from the beginning — give them a chance to get the big stuff taken care of before they move to the details.
Give Specific Feedback
If possible, avoid generalized statements like "it's great!" or "It's not quite right." Instead, try and figure out what, specifically, is great or just not right. If you can't seem to put your finger on it, confide in a close friend or two—distance from the project can help them see what you're missing more clearly. If you're not completely in love with something in particular, mention it! This is your blog and you want it to be uniquely you.
Consider Usability, Not Just Design
When you're looking at drafts of the design, make sure to look at more than just the design itself. Are the chosen fonts readable? Is it clear what the buttons do? Is the navigation easy to use? Do the colors look good on several monitors? Make sure your site will work, not just be pretty.
Ask Questions
Sometimes graphic designers get moving too fast and they may use terms that you're unfamiliar with. Or if you see something in the design that just doesn't make sense to you, question it. In other words, if you have questions about something, just ask! It'll save both of you so much time if you are comfortable asking questions about the design process.
Overall
Communication is King
Of all the things to remember when working with a designer, the most important is that communication is king. Answer emails and return phone calls in a timely manner. Answer all the questions that your designer asks in an email, not just the ones that are easy to answer. Keep records of all of your communication so you can go back and reference it later. Having those open lines of communication will make the designing process much more smooth.
Be Nice
I know I shouldn't have to say this, but really, be nice to your designer. We tend to get attached to our designs and having someone rip them apart is difficult. If you have concerns or critiques, definitely voice them. But remember your manners and just be kind and friendly in your communication.
Hope these tips and tricks have given you more confidence in working with a blog designer. When everything works well, the relationship between designer and client can make beautiful magic happen for your blog!
TODAY'S TOP TEN POSTS