Make these easy fall leaf gift tags — perfect for a handmade or hostess gift!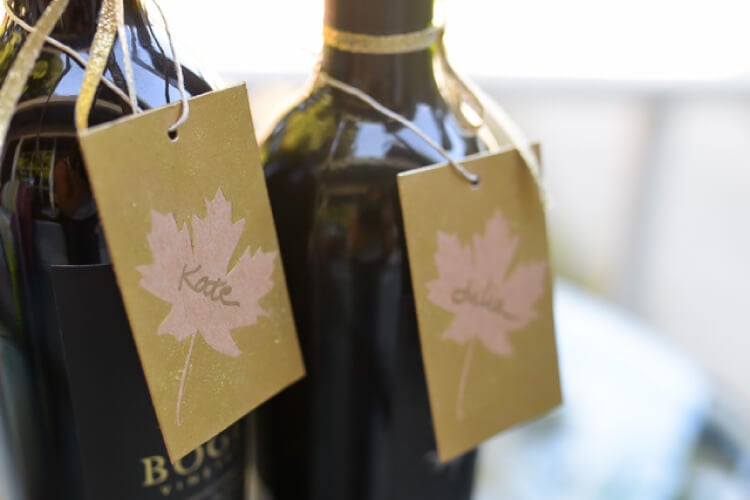 PIN THESE GIFT TAGS TO YOUR PINTEREST CRAFTS BOARD!
FIND MORE CRAFT IDEAS ON PINTEREST!
With the holiday season just around the corner (I know!), our calendars are bound to start filling up with dinners, parties, and events. I think it's such a nice gesture to bring a hostess gift, so here's a tutorial for creating a quick gift tag to personalize your present!
Supplies
Gift Tags (I got mine last year from Pick Your Plum (love their daily deals!), but you can find similar tags in most craft stores)
Cricut Explore
Cricut Removable Vinyl
Gold Craft Paint
Gold Glitter Craft Paint
Gold Sharpie
Directions
I used my Cricut Explore to cut out three maple leaf shapes that would fit on my gift tags. I cut them out using removable vinyl. You are basically going to use them as a reverse stencil, so it doesn't matter what color you use. I used a scrap of silver I had leftover from another project.
Place the leaf on your gift tag and press down to make sure there's a good seal around the edges.
Using gold craft paint, paint the rest of the gift tag gold, making sure to get in the smaller spaces between the leaf edges.
If you want, add a bit of gold glitter craft paint (or regular glitter) for a bit of extra pizzaz. Let dry.
Carefully peel off the vinyl and discard. Using the gold Sharpie, write the name of your hostess in the space left by the leaf and you're done!
Then attach to your preferred hostess gift — mine is, of course, a great bottle of wine!
I'm particularly loving the redwoods in our front yard as a backdrop to these bottles. Our new house is in the suburbs, but the handful of redwoods in the yard makes it easy for me to imagine living up in the woods, drinking a glass of wine on the deck.
Hope you're having a lovely fall and happy entertaining!
It's another blog Hop!
I've teamed up with a group of 75 bloggers to share tons of Fall Harvest Ideas with you!
Thanks to Abbey DeHart from The Cards We Drew for putting this together and giving me the opportunity to join in!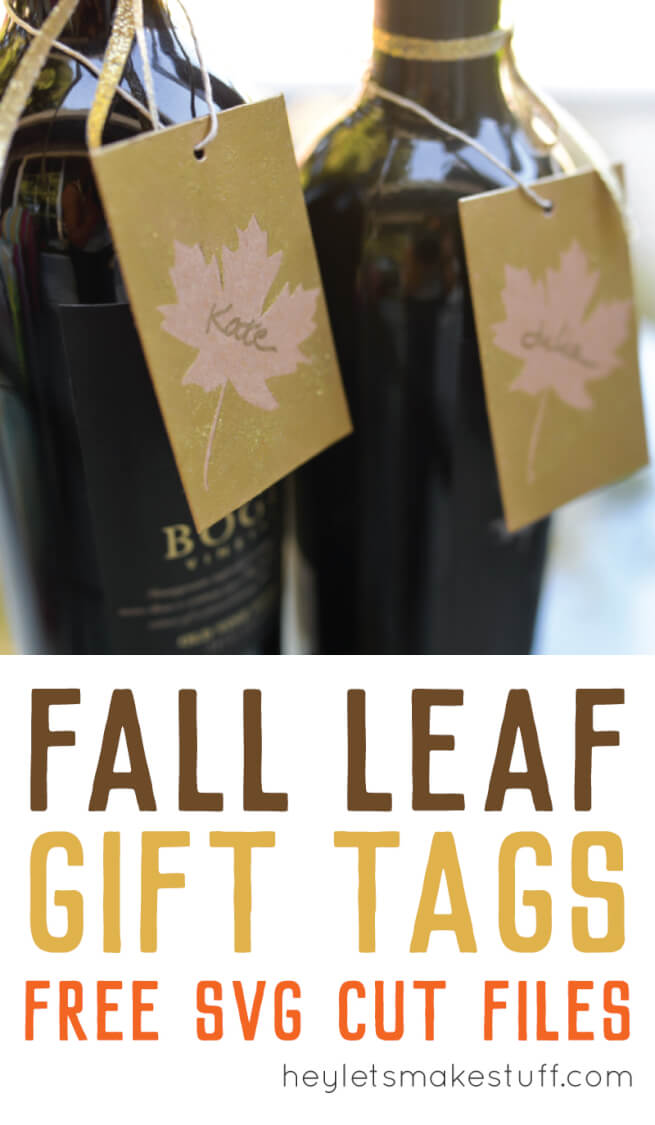 Crafts Galore:
More Cricut crafts and creations:
TODAY'S TOP TEN POSTS