Today's guest post is from Dee from Cupcakes and Crowbars! Dee and I met at SNAP and then joined a little blogging group — I have come to love this girl for her sass and the way she tells it like it is — it's refreshing in a blogging world that can sometimes be a little superficial. Plus she's an amazing cook and has a ton of fun DIY projects over on her blog!
It's widely known I rarely take shortcuts when cooking. Why? I'm a masochist. Duh. I don't judge anyone who does do shortcuts — I don't even think about it, truth be told. I just REALLY love cooking, and spending hours on the details fills my soul with happy. Most of the time.
Other times — mama's got a life and a lot of kids to handle. This pasta recipe was born from the fires of one of those times. Enjoy the simplistic ease of this dish — comes together quickly, very little effort on your part, and rewards you with a subtle flavor punch of fresh herbs and parmesan.
I honestly believe there are ingredients in the kitchen you can skimp on, and ones you should ALWAYS spend the extra money for quality, because it really can make a huge difference. Cheese is one of those things that I strongly urge you to spend a little more. Cheaper cheeses tend to be fattier and more bland-tasting — and by using them you're essentially adding fat and calories with very small taste bud-dy rewards — why would you do that? Get a REALLY great parmesan for this recipe – it pays off!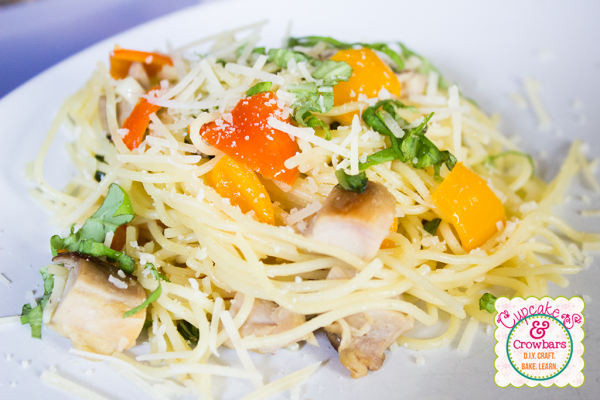 | | |
| --- | --- |
| | |
Cool rotisserie chicken until you can handle it with your bare hands. Remove skin and dice meat into bite-size cubes

Start water boiling for pasta, adding 1 tsp sea salt & 2 tbsp olive oil to water.

In a separate pan, heat 2 tbsp olive oil over med heat, then add diced peppers & garlic.

Saute, stirring frequently, for about 4 minutes – be careful not to scorch the garlic.

Add chicken cubes and continue cooking until chicken is heated through.

Drain the pasta and return it to the pan.

Gently stir in the vegetable mixture until well combined.

Plate and serve sprinkled with thinly sliced basil leaves.

Sprinkle with a bit of sea salt & parmesan to taste – and enjoy!