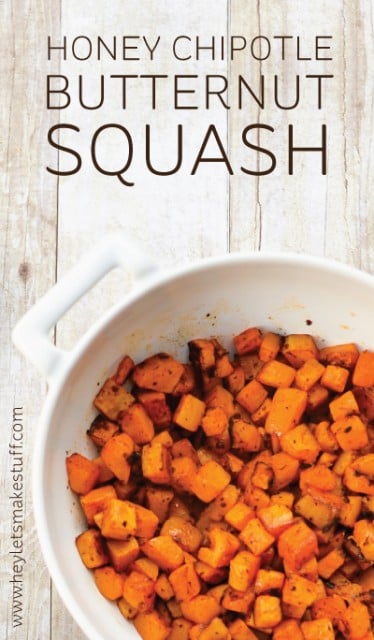 Today I'm part of a fun blog hop for Last-Minute Thanksgiving Dishes and Table Setting Ideas! Stop by the links at the bottom of this post to see all of the fabulous ideas.
For the past few Thanksgivings, my mom has made delicious mashed chipotle sweet potatoes. They've become a family favorite, so I decided to riff on that recipe just a bit, and use the enormous butternut squash that showed up in our CSA box this week. I threw together a few simple ingredients and thought the results were beyond delicious!
I love this as a side for Thanksgiving — lots of heartiness, a little spice, and all that rich fall flavor. Yum!
Honey Chipotle Butternut Squash
2014-11-13 01:57:38
A great addition to any holiday menu, this honey chipotle butternut squash is a wonderful taste of the season -- with a little spice!
Ingredients
1 butternut squash
2 chipotle chilis in adobo sauce
2 tablespoons olive oil
2 tablespoons honey
2 tablespoons apple cider vinegar
1 tsp salt (and more to taste)
Instructions
Preheat the oven to 450.
Chop the butternut squash into 1/2" cubes. This is the hardest part of the recipe, so if you're strapped for time you can buy pre-cut squash.
Put the remaining ingredients in a blender and blend until smooth.
Coat the butternut squash with the mixture and spread in one layer on a cookie sheet.
Bake the butternut squash for 30 to 40 minutes, stirring halfway through. Bake until fork-tender.
Serve and enjoy!
Notes
You could replace the honey with real maple syrup for a slightly different flavor.
I used my Nutribullet to make the chipotle mixture -- it works like a dream for little recipes like this!
Hey, Let's Make Stuff http://heyletsmakestuff.com/
TODAY'S TOP TEN POSTS