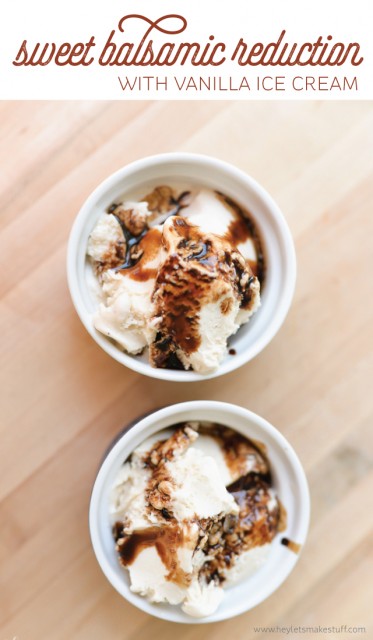 It's about this time of year that I start really aching for fall. The stores are filled with gourds, the scent of pumpkin spice is on the breeze, and all I want is a bowl of chili.
But let's be real. It's still 100+ degrees outside. Today I'm sharing one of my favorite ways to eat ice cream that has echoes of autumn, but still offers a refreshing bite when it's so hot outside!
I originally shared this recipe on Today's Creative Blog back in July. It's a recipe that you may find a bit odd, but I swear, it's really, really tasty. Let me introduce you to this sweet balsamic reduction drizzle, which I've paired with vanilla bean ice cream!
My mom and I celebrated two big birthdays (my 30th, her 60th) back in 2011, so we treated ourselves to a culinary tour in Italy with Culture Discovery Vacations. Over the course of eight days, we cooked, ate (and ate and ate and ate), drank a ton of wine, and toured Umbria and Tuscany. However awesome you think it would be, multiply it by ten. It was SUCH an amazing trip!
One of the things we learned to cook was a balsamic reduction. My mom and I make it often, and have tweaked the recipe a bit to make it work better for us.
The balsamic reduction is delicious on vegetables, meats, and as a salad dressing, but I absolutely love it drizzled over vanilla bean ice cream. Reducing the balsamic vinegar takes the vinegar out — leaving a sweet, rich, tangy balsamic. It's unbelievably tasty.
Ingredients
1 cup (8 0z) good quality balsamic vinegar
2 tablespoons butter
a pinch of salt
2 tablespoons sugar
Vanilla bean ice cream
Directions
In a saucepan, combine balsamic vinegar, butter, and salt and bring it to a boil. Reduce heat and simmer mixture for 4 to 5 minutes, stirring often.
Add the sugar, and continue to simmer for 5 – 8 minutes, until the the mixture is reduced by about half, stirring often. I suggest a fairly aggressive simmer — otherwise it doesn't reduce as well.
Let the mixture sit for an hour on the stove in the saucepan to cool.
Put the saucepan in the fridge for another hour. Once the balsamic reduction is cooled, a layer of butter will have risen to the top. Skim off the layer — it will help the reduction stay liquid when you store it.
I put it back in the bottle it came in for storage, but any airtight container works.
When choosing an ice cream to pair with this drizzle, I like a good-quality vanilla bean ice cream or gelato — you know, one with little vanilla bean speckles throughout it. Talenti's Tahitian Vanilla Bean is pretty much perfection. Drizzle the cooled balsamic reduction over a bowl of ice cream — you don't need very much! — and enjoy!
TODAY'S TOP TEN POSTS