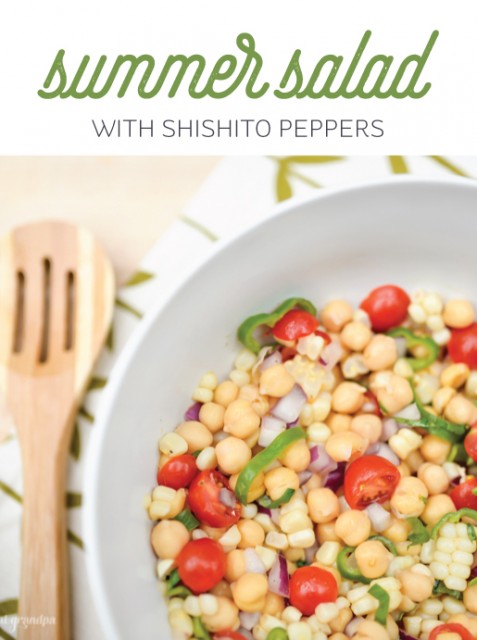 We got something new in our CSA box recently — shishito peppers! These little Japanese green peppers are pretty sweet but every now and again one carries a little heat! My friend Noelle whipped up a summer salad and used one of these little peppers — this recipe is based on what she threw together.
This summer salad is perfect for using up veggies that come from your garden or in your co-op / CSA box — and you can substitute all sorts of things to customize it to your own taste!
(Side note: after cutting the pepper, do not stick your pepper-covered finger in your eye. Because maybe it will burn with the fire of a thousand suns. Not that I did that. Nope.)
Summer Salad with Shishito Peppers
2014-08-04 01:42:31
Serves 4
Fresh from the garden salad with some added heat using shishito peppers!
Ingredients
1 can garbanzo beans, drained
1 ear of corn, cooked and cut off the cob
1 cup cherry tomatoes, sliced
1 small red onion, chopped
1 shishito pepper, de-seeded chopped
2 tablespoons fresh basil, chopped
1/4 cup olive oil
1/4 cup apple cider vinegar
Salt and pepper to taste
Instructions
It's easy! Mix all the ingredients together. If possible, let it sit for a few hours before serving, to let all the ingredients to get to know each other.
Hey, Let's Make Stuff http://heyletsmakestuff.com/
TODAY'S TOP TEN POSTS