Make a fun and festive patriotic windsock with materials you probably have in your craft room already!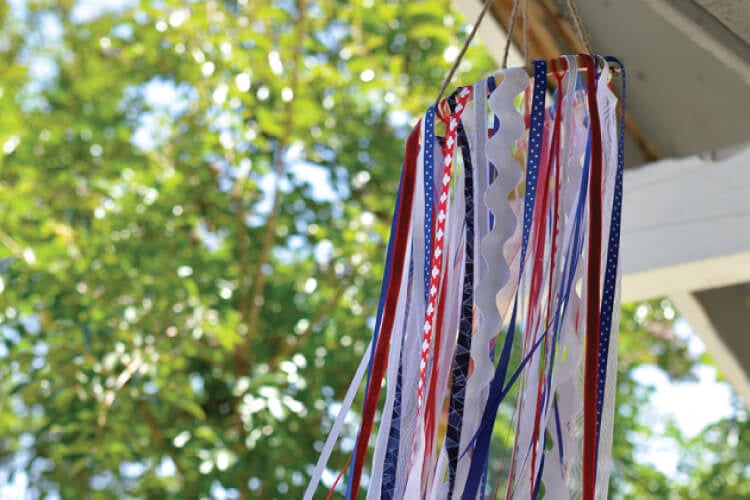 Memorial Day and the Fourth of July are coming up! I wanted to make something festive to hang out on our porch — but I didn't want to spend a lot of money!
So I decided to create a patriotic windsock out of a bunch of things I had on hand, plus a few other bits I picked up at the store. I had a bunch of tulle from another project, so I threw that in too.
Raid your craft room — I'm sure you can come up with enough red, white, and blue to make one of your own!
Supplies
These are the supplies I used, but of course you can use whatever you find! This is the perfect project for using up random bits of trim you have lying around!
6″ Wood Embroidery Hoop
Swivel Clasp
(a regular S-Hook
would work as well)
Skinny ribbon in red, white, and blue (I can't find a link, but it's a whopping $.50 a spool at both JoAnn and Michaels)
Thicker ribbon in red sparkles
, white sparkles
, and blue polka dots

Jumbo ric rac

Tulle in red
, white glitter
, and blue

Hot glue gun
and glue
Long red, white, and blue fabric scraps
Twine or other ribbon for hanging
Directions
All my trim is between 1.5 feet and 2 feet in length, but you can make it as long or as short as you want!
For the skinny ribbon, cut it twice as long as your desired length and loop it around the hoop.
For the other ribbon, ric rac, and fabric strips, hot glue it to the inside of the hoop, allowing it to come up and over the top of the hoop. This will help hide some of the hoop.
Keep going around the hoop!
For the tulle, glue it to the inside of the hoop, so it sort of all lives in the center of the windsock. I found this was a great way to create volume without the tulle hiding all the ribbon.
To hang the windsock, cut two equal lengths of twine (or ribbon or whatever). Thread them through the clip (if you are using an "S" hook, you can skip the threading-it-through step since you can just add it after).
Glue the twine to the inside of the hoop, spacing the ends equally around the hoop, one in each quadrant. I used a lot of glue, and then also glued a piece of red ribbon over the end to make sure it was secured. If it's blowing around in the wind, you don't want it to fall apart!
Then hang!
I love this project because it's patriotic without being all FLAGS AND 'MERICA AND EAGLES EVERYWHERE! Plus, it's a great scrapbuster!
Hope you all have a wonderful Memorial Day and Fourth of July this year!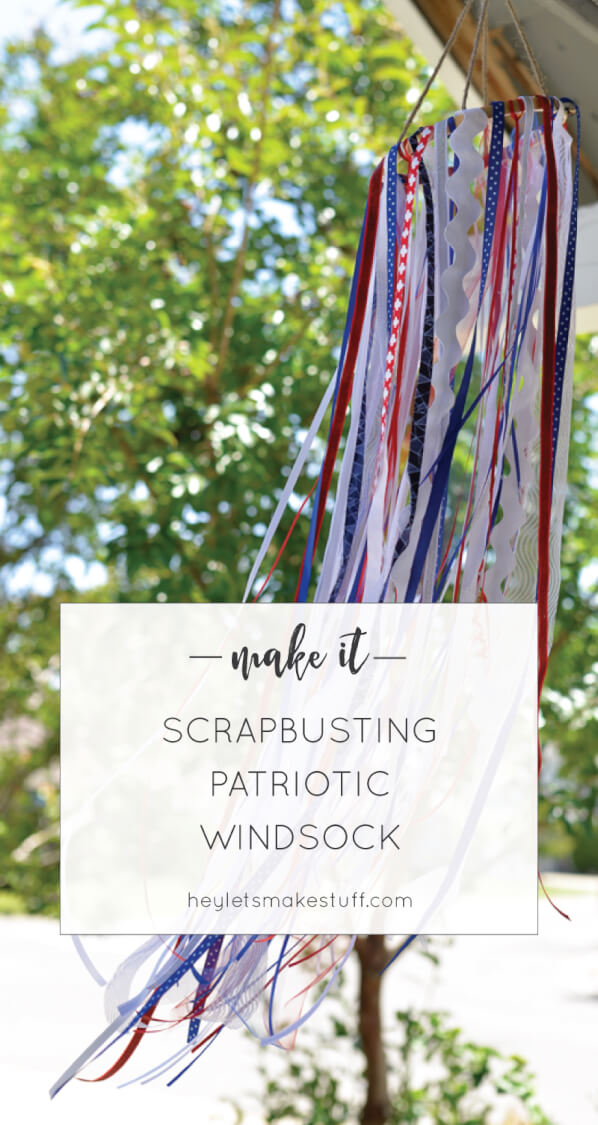 TODAY'S TOP TEN POSTS